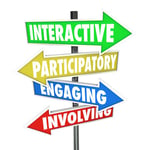 BYTE Session Recap
On August 12th, Jennifer Hofmann, President of InSync Training, presented the BYTE session, Enabling Virtual Learners by Design, to an attentive and passionate audience.
Jennifer began the session by acknowledging, "We all know, if you've been working in virtual classrooms at all, even eLearning and blended learning, we've all accepted that these tools are here to stay. They are part of what we are doing – they're part of the learning mix."
There's an issue with this evolution, though. According to Jennifer, "We keep treating online learning, virtual learning, as a technology issue… virtual learning is not about technology. We're spending money on technology, but we aren't spending money on environments in which people can learn."
To combat this plight, and to ensure virtual learners can be successful, Jennifer shared five key elements all instructional designers should include in online and blended learning programs. (For more information, see the InSync Training whitepaper, Enabling Virtual Learners by Design.)
Key Element #1: Learner Motivation
Jennifer asked attendees, "When it comes to online learning, virtual learning, how do you motivate your learners when there's no face-to-face contact?"
Answers poured in through chat:
"My voice"
"With relevant, useful content"
"Lots of interactions"
"Two way conversation"
"Provid[ing] the immediately usable benefits they will learn"
"Interactions using the right tool for the goal of the interaction"
Jennifer agreed that these were solid approaches to learner motivation, and pointed participants to her curated list in the InSync whitepaper, 101 Tips to Motivate the Virtual Learner.
She also added, "I would just like to point out some things that are especially important in the live online environment, or the blended learning environment: these concepts of 'publishing requirements and setting expectations.' As we begin to raise the bar, we have to reset expectations. One way we can [do this] is by publishing a course map."
Key Element #2: Opportunities to Collaborate
We hear all the time that online learning and blended learning provide opportunities to collaborate. But what does that really mean? Collaboration doesn't come from technology – it comes from the design of the program.
In order to design opportunities to collaborate, you need to think about what level of collaboration you want: cooperation, coordination, or true collaboration. Fundamentally, according to Jennifer, "The level of collaboration you're looking for does depend on the type of event you're creating." (More information about each type of collaboration, and how to create it, can be found in the blog post, Enabling Virtual Learners by Design: Creating Collaboration.)
A participant pointed out that, "Collaboration is not only mechanical participation. It has to involve intellectual input, too." Jennifer concurred, "We only cooperate, according to this model, if we're doing what the facilitator told us to. But it doesn't necessarily invest intellectually."
Key Element #3: Blended Learning
A blend, when it comes to virtual learning, is a key enabler for learners. There are lots of options available to designers, including self-paced programs, moderated discussions, and real time events. It's imperative that you ask yourself the following questions:
What parts of the program can I teach online?
What technology is best for that objective?
Consider the content first and then select the technology. Jennifer believes, "This concept of how you decide what you can teach in what delivery technology is the most critical part of designing for virtual engagement."
(For more guidance on designing blended learning, check out this podcast and our new infographic, The Art of Design for the Virtual Classroom.)
Key Element #4: Usable Technology
With blended and online learning, we want to adapt the technology to our content, and not the content to the technology. Above all, Jennifer says, "We want the leaners and facilitators properly set up, and [to] set up the technology on the same device they will use for learning." Because, as Jennifer points out, "Technology roadblocks can become technology detours if we don't use it well."
Prior to the learning event, you need to create usable technology. Participants shared their ways of doing so through their comments on chat:
"Setting expectations in advance for what the learners need to participate"
"Having a back-up plan"
"Set expectations with learners to test their technology ahead of time"
Jennifer had another strong recommendation to ensure the success of virtual programs and learners, "I suggest starting to change our language. Call things 'lessons' instead of 'sessions', because lessons imply learning." Attendees supported this, commenting, "The assumption in the current culture is that webinar training is a presentation, not interactive learning." And, "Webinar totally means "less engaged" to me. Lower expectations on the part of the learner/participant, as well as, on the trainer/presenter."
Key Element #5: Active and Participative Facilitation Team
To highlight the necessity of active and participative facilitators in virtual learning, Jennifer stated, "The role of the traditional classroom instructor has changed as we move learning online. We're really becoming facilitators of learning. But we need to remember that this adoption of new technologies isn't just new to our learners, it's new to our facilitators."
Educate and support facilitators in order to ensure they support the success of the learning blend and the participants. Adding a producer helps meet both of these goals because, as Jennifer commented, "The producer can help focus on technology and logistics and background information while the facilitator focuses on ensuring that learning objectives are met."
More information about the key elements discussed in Jennifer's session is included in the following complimentary resources:
For more information on enabling virtual learners by design and many other cutting edge instructional design topics, check out our Virtual Classroom Instructional Designer Certificate by clicking on the title or the graphic below.