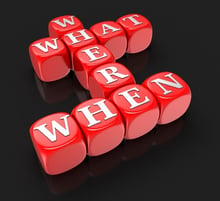 BYTE Session Recap
On July 15, 2015, InSync President Jennifer Hofmann presented, When, Where & What is the Modern Classroom? for BYTE series attendees.
Even though new methods, technologies, and techniques come into play in the modern classroom, one thing hasn't changed: the fundamental way adults learn. Jennifer stated, "We're still internally motivated and practical self-directed learners." These basic adult learning principles tie into designing learning for the modern classroom.
To begin building an understanding of the modern classroom, Jennifer posed the following questions:
Where is the modern classroom? Session participants' answers included: "everywhere," "wherever the learner is" and "at our finger tips."


When does the modern classroom happen? Most attendees agreed that the modern classroom can happen "all the time," "24/7." One observant participant noted that the "when" of the modern classroom "depends [as it] can be synchronous or asynchronous."


What is included in the modern classroom? As was to be expected, attendees had a variety of suggestions for what can be included in the modern classroom, such as: "technology," "job aids," "videos," "examples," "PDFs," and "conversations."
As Jennifer pointed out, "Everybody has a good idea of what's included in the modern learning experience, but it starts to get confusing and we don't know how to apply different concepts. Add in this idea of virtualization and globalization [which] has given us the ability to learn just about anywhere we are, anytime, and it just becomes more overwhelming. Inherently, it's about designers of the learning experience really understanding where the learners are coming from."
Defining Mobile Learning
Mobile learning is one particularly confusing aspect of the modern classroom. When asked to do so, attendees provided their own definitions of mobile learning. One participant provided a thorough summary of contributions by saying," We are talking a lot about using devices, so it's all about how to use those devices. I do see a trend of talking about on-demand, on-the-go, anytime, anywhere. Based on that, I think we are on the same page."
While most seemed to believe that the key to mobile learning lies in technology, one participant commented, "I could be on the train reading a paper magazine and that counts as mobile learning." Jennifer completely agreed, "That's just it. It's not about the technology."
Jennifer went on to say, "We're going to define mobile learning as a place. It's a place you go to learn. It's an environment. That's a function of content. If we are going to execute the task in a particular way, we need to learn it that way."
Formally Defining the "Where" & "When" of Modern Learning
Having pointed out that mobile learning is a place, not a specific technology, Jennifer provided formal definitions for both the "where" and "when" of modern learning.
Where
Modern learning takes place in spaces within which you can have a lot of technology. The four specific locations of modern learning are:
In a classroom

On a desktop

On a mobile device

On the job
In each of these spaces, different technologies are acceptable and usable.
When
Jennifer clarified that learning takes place at the following times:
Formal: planned, scheduled learning that someone registers to take. Generally what you might define as a course.

Informal: learning that is not a scheduled course. It's something that the learner gets just-in-time or on demand.

Collaborative: learning involving interactions with other people.

On demand: grabbing the content when the learner is ready for it.

Just-In-time: learning in the moment of need.
Learning needs drive the concept of both "where" and "when" for the modern classroom. Jennifer stated, "We need to think about where learning takes place, and when learning takes place at the same time: at the beginning of the design process."
Four Key Term for the "What" of the Modern Classroom
Terminology plays an integral role in the modern classroom. If designers and facilitators don't use consistent language for the "what" of the modern classroom, learning goals and objectives may not be achieved.
Work through the following terminologies in the prescribed order:
1. Place
Where training occurs.

The place is defined along with the "when" at the beginning of the instructional design process.

As discussed earlier, the four places are:
o In the classroom
o On a desktop
o On a mobile device
o On the job.
2. Technology
Technology delivers the content. It is how the learning happens.

All of the technologies can happen in the different places.

Examples of technology include:
o eLearning
o Virtual classroom platforms
o Infographics
o Video
3. Formats
How we are implementing the technology.

Format is not about the technology; it is about design.

Three formats:
o Stand-alone course: a complete set of instruction
o Blended learning course: a complete unit of instruction with multiple technologies in it.
o Microlearning: bursts of learning, usually 3-5 minutes in length meant to be stand-alone pieces.
4. Methods
Within the format, what are the instructional methods?

What activities will you use in your environment?

Examples of methods include:
o Gamification: using game thinking and design to teach
o Simulation: modeling a real-life experience in a training component
o Social collaboration: using social technologies to create a social activity.
Attendee Questions
At the end of the session, Jennifer inquired as to whether the attendees had any questions about the content.
One attendee asked, "Are there any current metrics to support some of the "new" formats?"
Jennifer responded, "That's an interesting question. There aren't a lot of metrics out there yet. And the ones being used may not be the best. For example, saying that because there were 200 downloads of a file, it's useful. I don't think counting clicks or downloads is a good measure. It doesn't mean that people used the content or read it. We need to get beyond counting clicks. We are in the process of trying to figure out metrics, and the question is, 'do we need to assess everything?' [Most importantly,] the content [needs to be] where and when people are learning .That makes us successful. It's up to us as a training organization to make sure that learners have the content they need."
Another participant added, "The best results are in the performance of the employees. Have their success rates gone up?"
In chat, the question came up, "How about how to refresh people on content they have already been certified in?"
Jennifer replied, "This is a great use of a lot of the modern workplace techniques, like microlearning, for example. What I suggest is that you embed the job aid tools in to the formal course (checklists, evaluation tools, job aids, videos) and teach them how to use it. That way, it's not them looking at something they've never seen before when they're looking at it six months later in the moment of need. Teach them how to use the refresher tools. And if you want to keep creating new tools, I suggest creating a community of practice, discussion board, or mailing list that announce when new tools are available. People will have to look for them, but you're giving them the idea that they're there."
For additional information and thoughts on the modern classroom (and other important virtual classroom topics), check out the many other posts on Jennifer's blog, Getting InSync.