BYTE Session Recap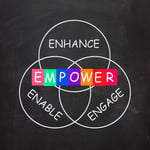 Organizations face a serious workforce challenge: many employees feel they lack the skills to perform their daily roles, causing them to disengage from work and their personal professional development.
How do we reengage employees and by extension, improve our organizational effectiveness? Training expert and guest BYTE speaker Cheryl Lasse believes personalized learning provides a viable solution.
She made a point during her session to highlight whether or not technology solutions can create the personalized learning experience modern learners need.
Tech Support: What We've Got
Many organizations have invested in one of two types of technology: Learning Management Systems (LMS) or Talent Management Systems (TMS).
We believed these technologies would solve the engagement problem. Learning Management Systems provide repositories for our training content; one-stop shops where our learners can pull whatever resources they need, or navigate programs in which they're enrolled. Talent Management Systems supposedly help guide our recruitment and retention internally.
It sounds like these two platforms could solve all of our engagement problems! Combine their power and we can guide new recruits through their learning experiences and provide them with constant access to skill-building.
Is the Tech Working?
If you have one or both of these systems in your organization, you probably have an answer to this question already. No, the tech isn't solving our engagement problem.
Cheryl pointed out, "Despite the proliferation of these systems, employee engagement as a whole, and learning disengagement, specifically, and the skill gap problem is actually getting worse."
TMS-driven development plans have an inherent flaw: many don't include self-assessment, so people don't buy-in, The opposite is true too: include self-assessment and you run into trouble. Human nature dictates we overestimate our capabilities. And if we think the results of our self-assessment could impact our pay or promotion, the overestimation problem grows.
Complicating the matter further, Cheryl pointed out, "By using our Talent Management Systems to build professional development programs, you risk creating development plans that: are understated (not going to be what I truly need – they won't help me), do not effectively address actual skill gaps, and contribute to leaner disengagement: participate in activities that may not be relevant to their actual needs."
So Do We Need The Technology?
Yes! These systems are essential to large scale operations. Experts like Cheryl aren't saying that they aren't important or necessary. The argument, instead, is to understand their limitations.
LMS and TMS platforms provide critical support to compliance and large scale operations. They provide important data and information management. For example, Cheryl highlighted that, "LMS store content, track consumption and learner history, and provide a central location when learners know they need training."
What they don't do on their own, though, is address the learner engagement issue. To solve that problem, we need to shift our training approach to one that focuses on personalized learning.
Personalized learning, by definition, requires learners to take control over the process. They engage with materials when and where they need them, to improve their competence and confidence on the job. Tech can certainly support them (think: mobile devices), but it won't be a single-point solution.
Learning functions must, as Jennifer Hofmann has argued for quite a while, shift from Push Training to a Pull Learning approach to support the movement toward a more personalized model of professional development.
Additional Resources