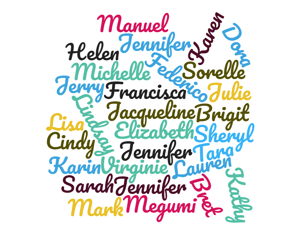 When the InSync Training team reflects on the most successful modern learning experiences, one L&D professional holds a special place in our hearts: the virtual facilitator.
With nothing but their voices, access to technology, and their ingenuity, they literally bring learning to life.
Today, we celebrate their contributions to learning and performance in the first ever Virtual Facilitator Day! Every year, on the third Wednesday of June, we will take an entire day to honor their skills, commitment, and engagement.
Join the party by sharing your stories about extraordinary facilitators on Twitter with #VirtualFacilitatorDay. We know the impact of successful facilitation reaches far and wide, and we look forward to hearing about your experiences.
Our facilitators represent the best in the industry, and we admire them for many reasons. Here are just a few:
They have a combined 100+ years of experience. Some of our facilitators broke new educational ground pioneering facilitation techniques when the virtual classroom came online 20 years ago. Others recently joined this learning environment to move training into the future. Through the years, they have guided thousands through their professional development journeys. Their practical experience and willingness to evolve changes the game on a regular basis.
They embrace the globalization of learning. Located in North and Latin America, Europe, and beyond, our facilitators support skill building across borders and time zones. They speak not only the universal language of learning, but also half a dozen languages, ensuring nothing gets lost in translation.
They use the virtual classroom to the fullest. One of our facilitators shared, "I love watching people brand new to this environment discover the possibilities." Looking beyond standard methodologies, common tools like chat and whiteboard become new and unexpectedly useful. By using platforms in innovative ways, they create meaningful connections among learners and to content.
They combine professionalism and personality. We love our facilitators for their competence and confidence. We believe their ability to connect with learners comes from their authenticity – they volunteer in their communities, rescue animals, sign karaoke, coach their kids' sports teams, and come from diverse professional backgrounds. Their realness equates to memorable events.
This short list provides just a peek into our admiration for virtual facilitators. We thank them today and every day for transforming virtual instructor-led training into impactful modern learning. To your success!
Are you ready to take the leap into the virtual classroom? Do you already teach live online? Expand your knowledge and improve your approach!