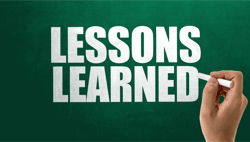 This post is part of an occasional series "Advice from the Virtual Trenches" where we share real lessons learned when virtual and blended learning didn't go as planned.
Virtual classrooms have been available to training organizations for over 20 years. As someone who has specialized in this domain during that entire time, I tend to forget that not every organization has adopted virtual training as an acceptable alternative to more traditional approaches.
I was definitely reminded of this recently when we worked with a global organization to implement their first substantive virtual training project.
Program Background
From project kickoff to implementation, this was an eight month long blended learning development experience. The proposed learning journey included high quality, interactive eLearnings, professionally produced video, and live content. Live content could be presented in two formats: a full-day traditional classroom intensive or a virtual option which consisted of four 2-hour sessions.
We had project plans, budgets, regular design meetings, and many productive discussions about how to create content that would be equivalent to the classroom experience.
This could have been the training initiative that established virtual classrooms as a valued way to deliver a collaborative learning experience at this organization. But, even with all of the planning, things didn't go as well as expected.
Things We Did Right….
In retrospect, the project team did many things correctly. Notably, they:
Assigned a project manager for the design and development phase. One person was assigned the job of managing this initiative. This project was his sole focus for the entire eight months. He coordinated vendors, budgets, timelines, and subject matter experts. We all knew what was expected of us, and how we needed to interact with one another.

Designed content with subject matter experts. Experts influenced the training content and took seriously their commitment to make sure the content was appropriate for this global audience. I've never seen such strong expert contributions on a project.

Conducted a true pilot for the virtual classroom content. In order to test the design, and ensure that the technology worked for the organization, we conducted a pilot that resulted in substantive, actionable feedback.

Trained their facilitators. All of this project's facilitators attended an intensive full day train-the-trainer session to help master the content. Then those facilitators who were scheduled to teach virtual sessions also attended a program focused on virtual facilitation skills. Each had two hours of private coaching to practice their skills and receive immediate feedback. Finally, a coach attended the first virtual session for each individual and followed up with feedback. The facilitators were prepared, and they really did a wonderful job of delivering the interactive design.
Things We Could Have Done Better…
It seemed that all of us were set up for virtual classroom success. Unfortunately, as we moved from the design and development phase of this project and into live implementation, the organization was not embracing the virtual option as much as we had anticipated. However, those who did embrace the live online option walked away from the experience believing that virtual classrooms were a good alternative to traditional delivery.
Here are some of the things that influenced this result:
There was a reduced focus on project management once program delivery began. Prior to implementation, we had a strong team that met regularly to ensure we were creating the right program. Once development was complete, that team dissolved. Project management responsibilities were moved to a new team member, and they did not have the support they needed to anticipate, identify, and proactively solve emerging issues.

We did not create a strategic communication plan. There wasn't a strong communication plan with learners to explain the goals or expectations of the blended learning journey experience. Because of this, some learners did not get the necessary value out of their program. Feedback from learners included comments like:

I didn't realize I needed to come to four sessions; I thought it was only one session. This comment came up multiple times, all with non-native English speakers.

I didn't watch the videos or complete the eLearning because I thought you would teach all of that content here. The collaborative design of the virtual sessions was dependent on learners completing self-directed components of the blend before attending the live session.

I prefer not to connect to audio at all – even listen only – I'd like to just watch the slides as they are advanced. To me, this is illustrative of a learning culture that is overly dependent on all information being on slides.

Why do I need to activate my microphone? The program was very 'hands-on' and had many group collaborative exercises.

I've already been to the face-to-face class – Only one option was required, but that wasn't clear to this individual.

The LMS had limitations when it came to a global implementation. During the first week of class, the producers noticed that many individuals were logging on an hour early or thought that the virtual sessions were only one hour long. It turns out, the LMS didn't account for the fact that it was summertime in the southern hemisphere (the equivalent of U.S. DST) so when people enrolled, they added the incorrect times to their calendar.

We should have created a marketing campaign that stressed the value of virtual learning compared to a more traditional approach. It seemed to our team that those attending the virtual option felt as if they were being left out of a richer, more desirable experience by not attending the face-to-face version.
So What Happened?

As a team, our focus was entirely on content and content design. We assumed that because we created the right program, implementation would be the easy part. We overlooked the crucial need to actively manage the change in the learning culture.
Valuable lesson learned. Project management doesn't stop when you have an implementation plan. And, we need to consider the experience of the learning audience, and the messaging to that audience, to ensure virtual classroom and blended learning success.
Looking for other modern learning lessons learned? Check out the other blogs in our "From the Virtual Trenches" series: