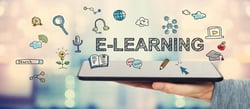 Virtually There Session Recap
"Build an eLearning course," they say. "It's what you're great at! You can have it done by Friday." Sound familiar? eLearning's popularity as both stand alone instruction and part of a larger blend makes it a standard in many instructional design portfolios. Unfortunately, the "go do that thing you do" mentality reflects a general misunderstanding of the complicated nature of eLearning production.
When faced with such a disconnect, how do we design impactful modules with a limited budget and an overwhelming number of tools available for purchase?
Kevin Thorn, Chief Nuggethead and corporate training expert, provided a helpful framework for building an eLearning design, development, and production toolkit consisting of free and paid tools.
The Truth About Tech Toolboxes
Truth: no two eLearning design, development, and implementation toolboxes will be the same. Inherently, their contents depend on personal preference, budget, and project parameters.
Kevin explained:
"No two projects are the same. One might be audio, one might be animation. One might be graphic heavy and deal with photos, while another may not have audio. A project dictates the tools you need."
Keeping that in mind, you'll also have to navigate all the compelling marketing in this space. Often we hear, "Buy this! Subscribe to that! And if you do, you'll be a Rockstar." While you may earn the eLearning Rockstar label, a single tool won't allow you to create compelling eLearning. That's why you need a toolkit that addresses different steps of the design process.
Kevin's sage advice to remember when building your toolkit:
"Don't pick the tool and then design the project within the restrictions we are using. Let's do the design and then choose the right tools to build the project. A lot of times, most folks don't have a lot of tools, so they have to design within the tool, so they have to force the design into the tool. But, that's not the say that you don't design first."
Storyboard Tool Tips
Typically, an eLearning tool typically falls into one of four categories:
Instructional design and storyboarding
Visual design and graphics
Media
Authoring
Storyboarding tools help you get the project started. They're the front-end tools and those that capture documentation and style guides.
When selecting a storyboarding tool, Kevin recommends asking the following questions to determine the most advantageous tools:
Am I a one-stop-shop? If so, consider a tool with a low learning curve that's easy to share internally with subject matter experts (SMEs) and stakeholders.
Do I work on a team? If so, consider collaborative tools, like Google Docs, so you can work together simultaneously.
Who are the stakeholders? Consider internal and external stakeholders, and associated potential barriers like security firewalls for cloud-based tools. Such limitations dictate whether you can use a tool like Dropbox.
Is my project driven by a SME? If so, consider tools they are already comfortable using. Often, you're given documents from SMEs, rather than preparing outlines first and reviewing later. You have to figure out how to take it apart and use the raw information supplied to you for your instructional design. Consider how SMEs are getting the documents to you (think: email, Google Docs) and choose appropriately.
The Big Reveal
Want to know a well-kept secret? You likely have access to the best storyboarding tools available: Microsoft Word and PowerPoint. Kevin argues that the prevalence and ease-of-use of these particular programs make them an optimal option for many eLearning projects in the storyboarding and design phases.
In fact, he said:
"In In my 20 years, I've not gone wrong with PowerPoint. I've tested and tried the fancy tools, but I always go back to the old favorites."
Looking for more guidance? Watch the replay of Kevin's fantastic Virtually There session for suggested guidelines to use when selecting tools for other parts of the eLearning creation process.