When the Fortune 100 Communications & Information Technology pioneer, with 66,000 employees in 70 countries all over the world was looking for world-class virtual training facilitation services across their entire organization, InSync Training developed a custom strategy to unify and streamline learning transfer and virtual experiences and deliver measurable results to exceed company training goals.
We're pleased to share with you this insightful resource: Client Chronicle with a Focus on Virtual Onboarding outlining how we've been partnering since 2009,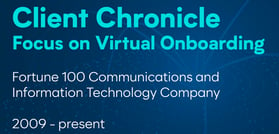 with a Fortune 100 technology legend to support their custom hybrid global training programs in technology adoption, sales support, new hire orientation, and virtual worldwide executive collaboration.
This partnership also incorporates design, development, and evaluation of new training initiatives for virtual sales, marketing, and channel partner training. The case study focuses on the services that InSync Training facilitates for their virtual/blended company new hire program: My Onboarding Journey (MOJ).
The client Chronicle outlines The Challenge, The Solution, The 90-day onboarding Journey, and of course, The Results.
Brandon Hall Group reports that great employee onboarding can improve employee retention by 82 percent. Find out how your organization can maximize new hire engagement in the hybrid workplace with our new Trends in Virtual Training - Expert Seminar Series.
Getting Virtual Onboarding Right - Maximizing New Hire Engagement in the Hybrid Workplace explores how to design a virtual onboarding program, how to connect remote new hires to the rest of the organization, and how to make the first 30 days on the job positive, memorable, and energizing. Choose from 12 of our trending workshop topics for up to 12 people in your organization. Purchase 5 workshops and the 6th workshop is free! Click on the image below to learn more.