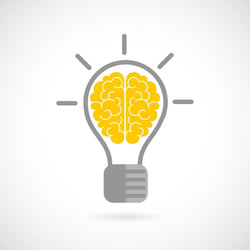 Virtually There Session Recap
It's that time of year – many of us have identified and are now trying to stick to New Year's Resolutions. Whether these resolutions encompass lofty ambitions or seemingly small improvements to our lives, this type of goal setting calls for unlocking bold change in our behaviors and mindsets.
To start 2020 off productively, the Virtually There webinar series warmly welcomed Coach Monique DeMonaco, an expert in helping people reach their full potential, for a January 14 event. What insights did this one-hour session provide? Our team compiled highlights and next steps for readers.
Session Basics
Coach Monique scheduled a jam-packed hour for Virtually There learners, covering a number of topics critical to personal change initiatives and change management, including:
Four life benchmark questions
The four universal reasons we suffer
The ABCC conceptual model for change
The brain science behind change
A technique for interrupting the patterns that challenge change
Each of these session components connected to one another seamlessly. The four benchmark questions expose our ingrained perception of change. The four universal reasons we suffer expose common self-limiting beliefs we all possess thanks to our biology; these fundamentally influence our responses to the four benchmark questions. The ABCC conceptual model addresses why we struggle with change, and how gaining awareness can unlock both behaviors and new direction. The brain science Coach Monique highlights links directly to both the ABCC conceptual model and her propriety "delete, delete" technique for interrupting self-sabotaging patterns.
3 Key Take-Aways
In a chock-full session, a few pieces of advice stood out as especially important to the InSync Training team.
"Most people perceive change as difficult."

If you feel like you are the only person who feels uncomfortable in the face of change, stop! In Coach Monique's work, she estimates that 97 people out of 100 will say that they find making changes in their life an unpleasant experience. When we take the time to realize our initial reaction to change falls in line with pretty widespread discomfort, we can begin to embrace the idea of using a strategic technique to move forward.

"Our awareness is what drives our behavior." When we set goals for ourselves, our gut instinct tells us to first change our behavior. But in almost two decades of experience, Coach Monique has come to understand that we should first become aware of our thought process and patterns. Awareness actually serves as the first step to progress when it comes to our actions. For example, if you tell yourself consistently that you won't arrive to work on time, you will likely show up late. Rather than simply vowing to leave earlier, examine your internal dialog and determine if your attitude might be setting you up for failure.
"The mind works in pictures and stories." In learning design and facilitation, we often talk about using images and narratives to increase retention and encourage performance improvement. We should be applying those same concepts to our personal change initiatives! Thanks to our primal drive to survive, our brains respond to and deal well with stories and pictures. Envisioning success or the consequences of achieving our goals can help us make the behavior changes necessary to accomplish our missions.
Next Steps
This blog provides a high-level overview of the insight provided by Coach Monique. To reap all the rewards of the techniques shared, we recommend taking the following next steps:
Watch the on-demand session replay of The Universal Way to Unlock Bold Change.

Benefit: Walk through a comprehensive process for gaining awareness of your limiting thoughts, understanding the root of your current behavior, and a technique for creating change in all areas of your life.

Download the associated infographic The 4 Universal Reasons We Suffer.

Benefit: As Coach Monique explains, "we all have a pie with four ingredients." These ingredients (self-limiting beliefs) can prevent us from moving to the next level in any aspect of our lives. Understanding these four suffering-inducing thoughts provide a jumping off point for true behavior change.

Take Coach Monique's exclusive Thought Pattern Assessment.

Benefit: Did you know? We each have, on average, 65,000 thoughts per day. Research shows that our dominant thought patterns profoundly impact the ways in which we navigate the world. This assessment helps get you started using Monique's techniques for unlocking bold change.
Don't miss the next expert-led Virtually There session. Visit the series page to register for upcoming complimentary events that align with your personal learning goals.