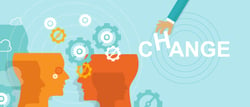 Our hybrid remote workplace faces radical, exciting, and innovative change with the emergence of powerful and game-changing technologies. But the purchase of new tools does not sufficiently prepare our organizations to integrate them in day-to-day work.
Adoption requires effort – a purposeful plan, a visionary team, and a strategic goal. Most importantly, stakeholders must consider the employees impacted by the technology change. How will their professional lives change? How arduous will the transition to the new technology be?
Whether moving to the virtual classroom, adding improved analytics to your eLearning, or switching your LMS, change management paves the way for adoption and initiative success. No matter how complex the technology, keep the change process simple. In fact, Kurt Lewin, a well-regarded social psychologist built a process that includes only three steps.
Step 1: Unfreeze
Before you can introduce any new technology to your Learning and Development processes, you have to let go of the old way of doing things. Many overlook this step, and for good reason! We think, "This new tool does so many cool things, everyone will love it."
As virtual classroom facilitators, for instance, we see the collaborative opportunities afforded by platform tools like chat and breakout rooms. But learners likely won't see those tools right off the bat. Instead, they may see moving training out of the traditional classroom as a cost-cutting measure, or worry they lack the tech-savvy necessary to participate in online sessions.
By first unfreezing the current way of doing things, we can control the narrative of the change, and explain what's in it for those impacted by the change. People need a motivation to willingly do new things, and in this age of hyper-customization, we have to personalize those motivations for all affected groups. Final word of wisdom: share the news of the upcoming change as early as possible. People don't like surprises when it comes to their tried-and-true resources and processes.
Step 2: Change
This step marks the traditional starting point for many organizations. We outline the technical implementation of new technologies and try to understand roll-out from a logistical perspective. Theoretically, this is the change management step with which we have the most practical experience. But, change itself requires skill building and training.
Continuing with the virtual classroom platform example, learners, the instructional team, and decision makers need a specific skill set to successfully leverage the new technology. Introduce learners to the technology before their first training session. Give them the opportunity to try out the tools embedded in the platform. Provide classroom facilitators with professional development opportunities to ensure they feel confident working in this new environment. Bring leaders into the fold, allow them to interact with the virtual training, and, if appropriate, include them in holding learners accountable.
Step 3: Refreeze
So you've destroyed the old way and introduced the new, what do you do next? Lock in the new approach! Change management doesn't end once you toss the new technology into the ring. Support the implementation after the initial introduction. Check on your target audience and review the data. Does this information indicate that you have reached key milestones? If not, make adjustments through increased internal marketing, better communication, and more performance support.
In our experience, employee virtual onboarding presents the perfect opportunity to refreeze virtual learning after introduction. It normalizes the learning environment and clearly communicates from the start that, "At this organization, we learn live online." Early adopters also offer a great opportunity – find the virtual blended evangelists and gather their feedback, share it widely and frequently.
Change management matters. Our EdTech implementations depend on it. Lewin's three simple steps provide us with the chance to increase the longevity of our initiatives, improve learner success, and provide a clear return on our modern learning investment. Whether a brand new trainer or a CLO, consider incorporating it in your next project to see how it works for your team.
InSync Training's NEW Trends in Virtual Training - Expert Seminar Series is designed to help you keep up with today's changing remote work environment. Choose from 12 trending workshop topics for up to 12 people in your organization. Purchase 5 workshops and the 6th workshop is free! Click on the image below to learn more.