BYTE Session Recap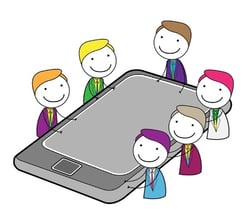 Organizations find themselves embracing the future of work: globally dispersed, virtual teams. We no longer have to rely on our teammates sitting in the cubicle next to us in order to efficiently and effectively do our jobs, complete major projects, and meet goals, all thanks to the power of technology.
Brenda Huettner recently explored the "Realities of Virtual Collaboration" with our BYTE learners, and shared her recommendations for selecting the technology categories you can leverage to equip and empower your virtual team.
Watch the entire recording for insight into the four challenges that virtual teams face, the types of virtual teams that exist, and recommendations for extending existing corporate culture into the remote elements of your organization.
The Key to Getting Things Done
Contrary to pervasive rumors, virtual teams do not work fewer hours or less concertedly on assigned tasks than their in-office counterparts. Because workloads are not lessened for remote employees, organizations and team leaders must ensure that large and small-scale projects stay on task, on budget, and on time.
What's the secret to success? Something we are all familiar with – project management.
Brenda shared this project management definition, "The discipline of initiating, executing, controlling, and closing the work of a team to achieve specific goals." Essentially, it's the "how" of making a team work together.
The Essentials: Types of Project Management Tools
Brenda explained:
There's a lot of tools available, including the ones you're already familiar with (like WebEx). Depending of the size of your company, team, or project, you're going to have different needs and budgets to address each need. Fundamentally, you need to pick tools for meetings, messaging, one-to-one interactions, doing the work, and tracking the progress.
As you begin the process of selecting the technology your virtual team will use, keep in mind that you will need to document specific procedures for each tool. Ask and answer the following questions for your records:
When to use the tool?
How often will the team use the tool?
How will you keep records?
Who is the owner of each piece?
Who needs to be included?
Category: Meetings
Virtual teams need to have access to technology that allows them to connect, collaborate, and share like they would in person at the office. There are literally dozens of web conferencing software products that we can use to bring virtual teams together. Brenda pointed out that Wikipedia generally has a pretty good list of available options and functionalities available in each option. Webex, Google Hangouts, and GoToMeeting are all popular options.
Category: Messaging
Not all questions, comments, and concerns require a group meeting. That's when messaging technologies come in handy. Team members can share the updates, provide crowd-sourced help, and "ping" coworkers if they have access to the right technology. Brenda explained that "listservs, emailing platforms, message boards, forums, and blogs" can all address the messaging needs of your virtual team. Skype, Cisco's Jabber, MailChimp, Yammer, Slack, and Wordpress all fall into this category.
Category: One-on-One Interactions
Collaboration plays a key role in the completion of projects and innovative problem-solving. Phone calls, video chatting, and email all have their uses within virtual teams. Old fashioned phone calls can eliminate misunderstanding that often occurs in more ambiguous communication streams, like email. Brenda made sure to highlight a challenge specific to email:
It's hard to go back in email threads. You don't want to have important decisions in an email thread that aren't stored somewhere else. Those decisions can be hard to track down if they only live in someone's inbox.
Category: Doing the Work
All teams, including those that work virtually, need to have technology that supports collaboration on project documents and deliverables. Larger companies often use a file sharing and storage tool like SharePoint which allows for version control. Confluence, Google Docs, and Dropbox can also be useful when multiple team members have to work on the same documents, thanks to functionality like version control, and permission settings.
Category: Tracking Progress
Virtual team leaders need to have the technology to track the progress of their projects and the team member contributions. Brenda suggests tools like Microsoft Office Project, OpenProject, Basecamp, and Jira as potential options for your organization.
Helpful Example
Brenda explained that while many tools have cross-category functionality, each team needs to have a toolkit that works for their group and addresses their needs. For clarity, Brenda shared that one virtual team she works with built a toolkit that includes:
Slack – Used for communicating and keeping in touch. It also provides messaging functionality with threaded topics and categories that makes it easy for employees to communicate about specific projects.
Trello – Provides visual layouts and visual digital whiteboards. Each task for the team has its own card and teammates are only added to the tasks relevant to their roles. It also serves as a visual layout when things are due, and monitors stages and tasks of the project.
Skype – Supports smaller one-on-one calls with clients or between individual teammates.
Google Hangouts – Hosts group meetings and whole-team check-in.
Do you work on a remote team and have a favorite technology tool? Share your pro tips in the comments! We love learning from our peers and applying helpful hints to our own work.