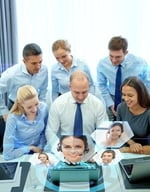 Association for Talent Development (ATD) Session Recap
Over the past 20 years, Jennifer Hofmann has built an entirely virtual and highly functional team at InSync Training. Interestingly, when she started her company, "We used to hide the fact that we were a 100% virtual, work-from-home team. It wasn't cool back then. People didn't understand how you could be professional. Now we understand that virtual teams are able to be professional, and that it's the way the workforce is moving."
Establishing her virtual workforce has not been without its challenges, however. For this reason, Jennifer took the time to share her lessons learned and best practices with the Association for Talent Development's (ATD) webcast audience on March 17, 2016.
This blog post will discuss high-functioning, tightly knit virtual teams and how we create, lead, and maintain this team. Every virtual team is a little bit different and you might have different best practices. Virtual teams can be very effective if we create and maintain the right conditions. Answers to common questions, and additional resources, will also be provided. To access the full session recording, click here.
Forming
The first step in creating highly functional virtual teams is forming. To do this, Jennifer explained, you need to do the following:
Create a profile that works for your virtual team. Jennifer "looks for someone who is motivated, proactive and a risk taker." The profile helps "create structure and defines the self-discipline necessary to be successful as a virtual worker."


Create job descriptions. These descriptions must very clearly define the right knowledge and the right skills necessary for each specific role.


Look to current team members. When Jennifer forms teams, she "encourages the people already doing the work to do the interviews and then [she] goes by their decision because they know who is perfect for the job."


Look for diversity. Jennifer doesn't just mean the HR sense of the word (gender, race, etc.) when discussing the type of diversity which makes for a great team. You "also want diversity of skillset because people will depend on one another."
Enabling
The second step in creating a highly functional virtual team is enabling its members. This step requires you to:
Set clear expectations and communicate them up front. Jennifer provided the following example of setting these expectations, "The vision set for my team is, 'It is paramount the customers have a great experience.' So I need to empower everyone on the team to make the right decision for the customers. Once people understand they can make those decisions, they're more comfortable."


Provide the right tools. When you're completely or partially virtual, communication is key. Jennifer emphasized that, "Communication needs to be intentional. We don't want people misinterpreting email messages or feeling left out because they aren't included. We need to have strategies in place. Have a strong communication tool set available and figure out when to use what."


Continue to use the Welcome/Introduction Plan. Just because you're dealing with a virtual team, it doesn't mean everything should be informal. Jennifer stresses, "Even the welcome to the team needs to be delivered and thoughtful. We need to provide that mentorship and growth plan."
Maintaining
After you form and enable a team, how do you keep it going? The third step to highly functional virtual teams, maintaining, involves:
Interdependence and independence: Jennifer believes that in order to be successful as a virtual team member, "You've got to be self-directed. You've got to get yourself to work on time and meet your deadlines. You also need to be able to say, 'I depend on that person on the other side of the world that I've never met to support me. That they'll meet their deadlines."


Common vision: Your virtual team members need to be working under a unified purpose. It clarifies direction and encourages productivity.


Trust: Team members, both co-located and virtual, need to know that they can rely on their coworkers to complete their tasks and provide guidance and backup when needed.


Fun: Have virtual get-togethers! InSync Training has an online book club that meets regularly, as well as virtual happy hours. Thanks to technology, like Skype and WebEx, there are many ways to have social interactions just like you would in a traditional office setting.
Protecting
Protecting the virtual team you're building is the fourth step in making it highly functional. Jennifer pointed out, "We can have a very fragile experience on a virtual team. Without that physical presence, it's easy to take offense." Jennifer is very clear about protecting her team by doing two things:
Keeping an eye out for issues. "I have a team leader," Jennifer explained, "who is looking for the body language in the bandwidth." They keep an ear to the ground about the wellbeing of our team members and identify ways to help when appropriate.


Share the credit and claim the blame. As far as Jennifer's concerned, "When my team is successful, they get all the credit because they did the work. When something falls apart, I need to look at myself and my managers and say, 'What didn't we do to enable them?'"
Rewarding
Rewarding is the fifth step to making your team highly functional. On remote teams, it's easy to forget that those people on the other end of the phone or on the computer screen are doing the work. Jennifer recommended team leaders reward their players though:
Highlighting accomplishments: Jennifer said posting kudos and positive feedback in a private team Facebook group or Sharepoint site is an easy way to recognize the hard work of your team.


Physical rewards: Go beyond the gift baskets during the holiday season and get creative! InSync Training once sent Halloween candy to the children of its virtual team members with a note that said, "Thank you for allowing your parents to be flexible in our organization."


Finding ways to have fun: When Jennifer knows people are going to be in the same place, she encourages them get together and the company pays for it.
Questions for Jennifer
How long did it take you to build your virtual team?
"The team grew slowly with about four to five people and now we're up to 60. It took a few years to build the connections and the culture. Now it's maintained because the culture is there and everyone expects it. If you start setting the culture during new hire orientation, you don't have to change their mindset."
What do you do about a team where not everyone is virtual and you have team members who have to communicate and engage with the virtual team?
"I think we need to come up with something that gives everyone the same treatment. So if you would do a performance review for a virtual team member through the virtual classroom or video chat, for example, see if you can do it the same way with your face-to-face team members so there's an equivalent experience. We want everyone to feel like they're a member of the team; we don't want anyone to feel left out. If you're leading a virtual team, do whatever you can to make everything equivalent. If you're doing an in-office team lunch, send people at home gift certificates so they can buy lunch. If people get together for happy hours, send everyone home and have them log on to the virtual classroom and have a virtual happy hour so people can stay connected. Do whatever you can to streamline - don't have two sets of processes for two different groups. It's like if you have your own kids and you have stepchildren. You need to do whatever you can to treat both sets of children the same, otherwise you get mixed messages and people start to have resentment."
What recommendations do you have for communicating with someone who believes they signed up for an in-person role?
"If someone's new, it's easier. You can say, 'It's a virtual team. We're global and we are not restricted to one time zone.' Or, 'Even though you're here face-to-face, we have virtual team members.' Set those expectations of 'this is how we are going to work.' Explain, 'These are the collaboration tools we use, and this is how we are an integrated team.' When co-located people realize they can rely on these remote workers more and more, it'll create a better environment for everyone. They'll trust that they are going to be doing the work."
Looking at the employee lifecycle, how do you recommend handling employee evaluation and feedback?
'There are a couple things that we do – we initially provide them with a mentor or coach or partner to find out who's who in the zoo. Who do I go to for this? Who do I go to for that? That person isn't necessarily a supervisor, but someone who knows the job well and can provide that type of coaching. What we do in our organization is a lot of teaching for ATD. We have facilitators and producers who, at the end of every course, do 360 feedback where they provide each other feedback. That's all we use by the function lead (the facilitation lead). On a regular basis, there are short conversations (20-30 minutes) – Where are you? What do you want to do next? It's built into the process and the expectations are set: in 6 months, we'll have this conversation, and these are the expectations we have of you. If you think about it, we do so much of our work on the telephone, this type of employee evaluation is a natural evolution."
In an organization where you have turnover within two years, how can you build and maintain this type of environment?
"Start that way. If you've got a mixed team where some are working face-to-face, treat everyone as if they're working remotely. Don't get everyone together in one room and have virtual team members dial in from wherever they are. Use your GoToTraining or WebEx to be very supportive. Every interaction should be as if you're virtual and should be constant. Give people different roles, but start off on day one. This will help build the culture."
Jennifer provides expert answers to other common virtual team questions and additional advice and guidance about day-to-day operation of virtual teams in her whitepaper, "Creating and Leading Wildly Successful Virtual Teams." Download it here for free.
Interested in building your own virtual team? Check out our new Highly Effective Virtual Teams Workshop by clicking on the icon below.