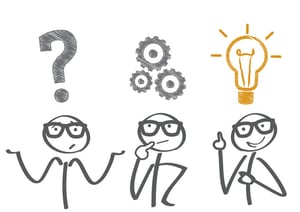 The InSync Training team includes over 80 practitioners, working and supporting effective virtual learning events all over the world. Our experts often share stories about unexpected outcomes, surprising interruptions, and quick-thinking resolutions. As part of our 20th anniversary celebration, we enthusiastically share their anecdotes. Whether you have worked in the virtual classroom for years or just began transitioning to this learning environment, you can learn something new!
Flexibility when the Unexpected Happens
When something unexpected happens in the virtual classroom, we need to be ready to think quickly and be flexible. It's great to have a facilitator/producer team in these situations, as we all know "two heads are better than one." This instructional partnership becomes even more important when faced with challenging scenarios, and trust is needed to work together quickly to adapt to a tricky situation and keep the learners engaged. Facilitators and producers also need to foster a good relationship with the learners.
Do you set a positive welcoming tone and create an environment in which learners feel safe sharing what is going on around them? If not, you might have a classroom full of people feeling torn between managing their distractions and paying attention to the content.
In today's mobile (and sometimes unpredictable) office spaces, virtual or on premises, we have to be flexible and ready to meet our learners' needs.
Getting Creative
InSync Training facilitators, Jennifer James and Brigit Michael, share a story about how they got creative when faced with a tricky situation:
"We had an interesting situation recently when teaching the final session of a Design class just before the Covid-19 outbreak. Our participants were all from the same company, and one had some inside information that there would be a fire drill halfway through our class, forcing everyone out of the building for about 30 minutes. We did some quick thinking and decided that since we had a breakout activity planned, we'd use the parking lot of their building as their breakout space. We file-transferred the information they needed to discuss, and assigned one person to print it out and grab the materials to disseminate to the groups as they left the building. The participants would use their down time during the fire drill to complete the work in their groups and then come back inside, rejoin class, and give their verbal debrief. We just had to cross our fingers that it didn't rain!!"
In these days of issues like internet interruptions and extreme weather conditions, we need to be even more agile to accommodate the unique situations of our learners. Virtual facilitators need to be comfortable with the platform tools so that quick-thinking solutions can be applied.
Outcome: "Our learners did not have a place to write while in their designated areas of the parking lot, so they shared their results from memory without any notes. It wasn't the most informative debrief we've had for this particular activity, but by adding a little extra whole group discussion, we accomplished our objective. Our outside the box thinking kept our lesson plan from being derailed. As learners become more comfortable with the virtual environment, they also become more willing to adjust their means of learning, even if it takes them outside and into a parking lot!"
Each month, InSync's 20th Anniversary Team Insight Series will share recommendations and wisdom from our team's resident experts. Be sure to subscribe to the blog for email notifications when a new edition goes live!