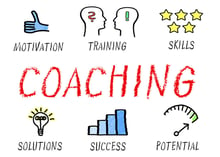 Professional development doesn't get more personalized than one-on-one coaching.
According to the International Coaching Federation, professional coaching is a "thought-provoking and creative process that inspires [people] to maximize their personal and professional potential." This definition reinforces two key ideas:
Coaching encourages creative thinking. Through the process, coaches encourage participants to think outside of the proverbial box in order to identify improved ways of doing things.
Coaching requires personal assessment. Coaches don't necessarily tell participants what's wrong with their methodologies. Instead, they offer opportunities for pointed personal contemplation about their current approaches and areas of potential growth.
Professionals in all fields and at all experience levels can benefit from this type of skill building, and businesses can actually improve their overall performance by creating structured programs.
From an L&D viewpoint, some training programs include coaching, as some learning objectives benefit from concentrated guidance and learner self-reflection.
Our team includes expert modern learning practitioners who regularly coach trainers to improve their on-the-job performance. To better understand what good coaching looks like, I turned to the resident InSync authorities to learn more. Whether you are an experienced coach, or it's a brand new job responsibility, incorporating one or more of these perspectives can prove helpful to your practice.
"Find a comfortable coaching model to follow can help you if you are newer to coaching, like the GROW model." – Jennifer N.
Having a framework to guide your coaching approach helps ground the process. The GROW model, for example, organizes sessions around exploring your coachee's goal, current reality, options, and way forward. A huge number of models exist, allowing you to create a unique approach that works best for the environment in which you work and the objectives your participants need to meet. Prepare to creatively adapt and evolve your approach as sessions unfold for the best overall experience
"Ask questions. Don't just tell the participant what they did wrong. Ask them what they think went well." – Jenna C.
Inquiry-based learning empowers learners in most situations. Put simply, inquiry-based learning refers to the "process of posing and answering questions to gain new knowledge." We engage in this practice in our daily lives when we encounter a problem or situation we don't recognize. Sometimes we turn to a colleague, a friend, or Google to literally ask the question we stumbled across. Using this model in coaching empowers participants to self-discover new things or self-solve ongoing problems. As Jenna points out, the best coaches prompt and guide, rather than prescribe and correct. But….
"I recently learned about the importance of NOT asking leading questions or suggesting solutions." – Karin R.
Coachees benefit from drawing their own conclusions. By design, the discovery process does not offer quick and easy solutions. Many coaches struggle to ask thought-provoking questions without leading the participant to a specific response or course of action. Good questioning takes practice, and thankfully there are many resources (like this Forbes article titled 16 Powerful Questions Coaches Ask Their Clients to Help Achieve Their Goals) to help you build a repository of constructive, pointed questions.
"For me, coaching exists in the context of an individual's strengths and styles, and the observable and measurable performance indicators of a given task or role." – Mark D.
Coaching involves active listening and keen observation skills. Asking questions help you, the coach, understand the context in which your coachee operates. What personal goals do they have beyond the ones prescribed by their company? Which steps in the personal professional development process give them pause? Do they have the fundamental skills required to move to the determined next level? Mark makes an excellent point about focusing on the individual's strengths and "connecting to people where they are without judgement."
Have you used coaching in your professional development? Did you find it a positive and helpful professional experience? We would love to hear about your best practices and lessons learned in the comments below.