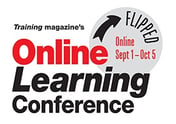 Greetings from Denver!
Please allow me to introduce myself: my name is Katelind Hays and I am the Social Media Marketing Manager for InSync Training. I have the great privilege of attending Training Magazine's 2015 Online Learning Conference (OLC) with InSync President Jennifer Hofmann.
As conference sponsors, InSync Training recognizes the value of industry events like this one. Learning is a global profession, and it is all too rare an occurrence that practitioners have the opportunity to be in the same place at the same time. Unfortunately, we understand that not everyone could make the trip. That's why, on each day of the conference, I will be sharing lessons learned and industry insight with you, our readers!
Kick-Off
At four o'clock this evening, OLC started in a creative and engaging way: with speed sessions. Over the course of two hours, attendees enjoyed drinks and hors d'oeuvres while taking part in intriguing mini-sessions. Facilitators gave us an informative preview of what was to come in their full-length presentations later in the week. The benefits of this approach were two-fold. First, it was a chance for us to decide whether a topic was relevant to our particular professional development before investing 90 minutes of our time. Second, it was a rare treat to work with, and learn from, industry leaders in a small group setting in their area of expertise.
Take-Aways
My favorite wisdom imparted during Lou Russell's mini-session is that facilitators should practice self-reflection to provide the best training to learners. Kevin Thorn effectively demonstrated that story cubes can help groups work through a tough brainstorming session in a fun and stress-relieving way. It's also wonderful to see that connecting with learning leaders and peers is made easy through modern communication methods like the active conference Twitter Backchannel.
Join In!
Even if you're not in Denver, you can still participate. Follow us on Twitter (@InSyncTraining) and review the Twitter Backchannel by searching for "#OLConf." Doing so will allow you to see all the Tweets sent by participants about sessions, goings-on, and lessons learned.
I look forward to sharing new insights tomorrow!