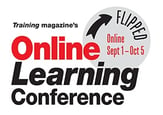 Training Magazine's 2015 Online Learning Conference (OLC) has come to a close. While yesterday was a short day for many attendees due to travel, the wisdom imparted by session presenters was no less impactful.
Video Interactivity
This year, OLC included a brilliant series of presentations called the "Maker Faire." These hour-long interactive sessions allowed attendees to complete a project alongside an expert and take the final product home. Learners could not only demo new technologies, but they could bring a tangible final product back to work with them – a clear demonstration to their organization of the value of the attendee's conference investment.
Karl Kapp and Cass Sapir facilitated, Maker Faire: Learn to Make Videos Interactive & Catch Up on Your Projects. We were introduced to HapYak, a program you can use to create interactive learning videos. Cass defined video interactivity as, "video hosted on a platform, like YouTube, that has a series of interactions overlaid on top." The most popular interactions added to training videos include pop-up questions, links to resources, and chapters. Interactivity transforms the passive act of watching a video into an engaged learning event.
Cass shared many insider tips and tricks while we created our very own interactive videos, complete with quizzes and chapter breakdowns. For example, add chapters to your video first. You are essentially breaking it up so that you can easily reference topics later. Furthermore, with software like HapYak, you can branch your video. This turns your video into a "choose your own story" concept, where learners are automatically taken to content appropriate to their needs.
Kudos to OLC & Maker Faire presenters. The skills they taught at OLC will most definitely prove beneficial to attendees long after the conference ends.
A New Platform
Training Magazine Network unveiled their new platform Path2X at OLC. After its launch, Ray Jimenez hosted a lunch session explaining the features and benefits of the new-and-improved website.
Ray stated, "The purpose of this new platform is to have Training Magazine Network serve as your learning concierge…to give you an abundance of knowledge to get what it is that you need." They hope to achieve this goal through a user-personalized eMag, individual learning tracking, a library of searchable webinar recordings, and evidence based certifications. One contributor to Path2X praised the endeavor, saying that it "honors adult learning because adults like to make choices. [Here] you get to make the choices about what you want to learn."
I look forward to seeing how the platform is received and how it evolves in the future.
A Big Thank You
The InSync Training team would like to thank Training Magazine for their hard work in putting on this important industry event. It was inspiring to see so many learning professionals come together with innovation and creativity to tackle the problems we face every day.
Sponsoring the conference application and Cyber Café was a pleasure and an honor. While OLC 2016 is now a year away, we can't wait for the next opportunity to come together and transform learning and performance again.