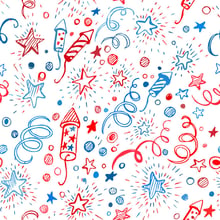 This week, America celebrates Independence Day. We come together at barbecues, on the beach, and with family and friends to commemorate the signing of the Declaration of Independence.
While the United States of America has officially existed since 1776, the virtual classroom has only provided a viable training option for about 20 years.
In honor of this holiday, we urge you to declare your independence from outdated training and embrace the possibilities of modern blended learning.
In the spirit of the celebration, we rewrote a bit of the Declaration of Independence to include our promises to the field of learning and development.
We, therefore, the representatives of the modern classroom, assembled, appealing to fellow learning professionals, do, in the name, and by the authority of our good learners, solemnly declare that our classrooms are, and of right ought to be free of unengaging facilitation and inappropriate design. As empowered adult learners, they have the full power to define their own learning pathways, grow their personal learning networks, and contribute to social collaboration. And for the support of this declaration, with a firm reliance on the design and presentation of effective learning, we pledge to each other our most sincere effort and continued pursuit of excellence.
How can you declare your learning programs as modern and influential? Take on one (or all!) of these challenges:
The modern classroom provides the freedom to invest in flexible, responsive, impactful learning. Let's make an effort to use it to its fullest potential.