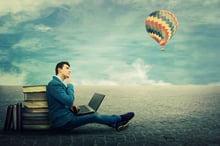 When designing and delivering content, we need to balance five elements of the learner experience: technology, design, people, place, and time.
In order to achieve this balance, we need to focus on the learner experience. We need to define and leverage how learning is structured, including when it is taking place, where it is taking place, and how it is being delivered.
In formally structured learning experiences, time, place and delivery modes are set. Proper sequencing leads learners through a scheduled beginning and a scheduled completion in a set environment (in-person or online). Learning events are sequenced to enable learners to practice and master a learning objective before mastering something else in the curriculum.
During informally structured learning experiences, learners are given more control of the learning materials they consume and of the time and way they access those materials. Learning can be self-directed and happen through curation, conversation, networking, and/or community involvement.
For these experiences to be successful, we need to step away from traditional routines, and serve our learners both before and after scheduled "first time" events, including when they need to learn more, when they forget what they've learned, and when things go wrong. We need to ensure that learning experiences are made available and learning happens when, where, and how it is most appropriate.
Modern blended learning takes these approaches into consideration, aligning goals and objectives with learning materials, assessment, and modes of delivery. It is the re-imagination of traditional learning routines into a truly learner-centered journey.
Let's look at how these five characteristics impact the learner experience.
Technology
Blended learning can also be delivered using a variety of technologies, which need to be considered alongside delivery modes, as well as delivery devices.
It is extremely important to select the mode of delivery associated with each learning objective before selecting the technologies you will be using to deliver blended learning! Even if you have a webinar technology available to work with, it may not have the functionality needed to support learner achievement.
Well implemented blended learning technology solutions can be powerful assets, as long as the focus stays on learner success throughout the technology selection process. An emerging technology application may seem like an innovative approach, but if it is too difficult to use it becomes an obstacle to learning.
(For more information, download the ebook: Sorting through the EdTech Toolbox.)
Design
Modern learning design has the following features:
Assumes that learners create their own inquiry-based learning designs by posing questions, problems, or scenarios that relate to their day-to-day tasks. Today's learners are very self-directed and comfortable with a search engine approach to getting information. By taking advantage of this inclination in modern learning design, we start to work within existing workflows.

Encourages critical thinking. "As the world becomes more complex and interdependent, the ability to think systemically, to analyze fields of forces and understand their joint causal effects on each other, and to abandon simple linear causal logic in favor of complex mental models will become more critical to learning." - Peter Senge via Edgar Schein 'Organizational Culture and Leadership'


Is, as much as possible, based on "real work," where learners are constantly applying what they are learning to actual situations in the workplace.

Has a "show your work" component, where learners create projects, solutions, presentations, etc., in an iterative way, and receive feedback from peers and facilitators as each iteration is produced. This feedback process occurs during formal lessons, but also is available perpetually if active communities of learners and practice are present.

Is still based on the traditional instructional design concepts of needs analysis, design, development, implementation, and evaluation. It's applied on a much more discreet level, to learning assets as simple as an infographic.

Organizes microlearning and other learning assets into a macrolearning ecosystem and utilizes microlearning assets during the formal part of the learning experience (generally, when learning something new), with the expectation that the same tools will be used in all of the other moments of learning need.

Fundamentally focuses on providing tools, performance support, and other resources. As this approach is adopted, training will consist of fewer slides and more tools.

Utilizes a gamification approach, where every contribution to the learning community is recognized, and influencers emerge.
People
When designing blended learning, we need to keep multiple groups of stakeholders, and their individual needs, in mind. For example:
Learners: When, where, and how are learners participating in this experience, and how will you meet their needs before, during, and after formal training?

Facilitators: How will facilitators be involved outside of regularly scheduled training events? Do they have the skills they need? What support do they need to be successful?

Producers: Will learning producers be just technical support, or will they provide instructional support as well? What is the desired relationship between the producers and the learners?

Instructional designers: Are designers equipped to support perpetual blended learning design? Do they understand the learning experience?

Business stakeholders: Is the program meeting business needs? How can you engage the business in supporting the experience?
Place
So, where do modern learners learn?
In the classroom. A classroom is a formal face-to-face environment, in a specific physical space. It is generally comprised of an instructor and multiple learners. It can be supported by, among other things, printed materials, slide presentations, and various instructional technologies.

On a desktop computer. With the virtualization of learning, an individual's desktop computer has become a learning environment. Content can be delivered formally using technologies such as live virtual classrooms, e-learning, and social learning (and many others). When identifying a desktop computer as a "place," this definition assumes it is not located in a formal classroom setting—rather, individuals are learning while physically separated from one another. When learners are all accessing computers while co-located in a classroom, the definition of a desktop computer being a "place" no longer applies.

On a mobile device. Mobile learning is not a technology; it is a place. This is because many learning technologies can be implemented on a mobile device, including e-learning, virtual classrooms, or video. Therefore, a mobile classroom refers to a learning experience where the learner is working from a smart phone or a tablet. Learners could be at desks, or just about anywhere their jobs might take them. Remember, a full-featured laptop is not considered to be a mobile device. While you could, indeed, take the laptop just about anywhere, for the purposes of our discussion, a laptop functions in the same way that a desktop computer functions.

On The Job (OTJ). OTJ training occurs at the workplace, while an employee actually is performing the job. It can take the form of a formal mentor/mentee relationship, but most often is characterized as an informal process wherein the employee applies new skills and approaches mastery by taking advantage of resources, experts, and learning technologies on an as-needed basis. OTJ training can take advantage of technologies that might happen to be housed on a desktop computer or mobile device, but the "where" is on the job.
Time
And, when do people learn?
We turn to Dr. Conrad Gottfredson and Bob Mosher's five moments of learning need to better understand our modern learners and when they need to learn.
When learning for the first time. We all know what it's like to learn something new. For example, a new customer service agent will need training before she gets started. She arrives at work on her first day for a full day of orientation training – designed to help her learn (for the first time) what she needs for her job.


When learning more. Suppose a supervisor is doing performance reviews for the first time. Sure, she had job training, but she now needs to learn a bit more in order to give her reports direct feedback for the first time. She might refer to online resources, reach out to a mentor, or attend a formal training event.


When remembering and/or applying what's been learned. Let's go back to our customer service agent, who needs to tap back into that orientation training on a regular basis. She's not going to use everything she learned every day. She's going to be remembering and applying what she learned months ago, as she learns and grows in her new job. What resources will be available for her to refer back to? If these moments were integrated into the design process, she will have access to materials she received initially, and additional resources to explore when she needs to apply what she learned previously.


When things go wrong. We know that not everything goes the way we want it to. Let's go back to our new supervisor who is providing feedback during an employee performance review session. What if the meeting doesn't go as planned? She used the same meeting format that she learned in training with other employees, but one meeting has just gone way off the tracks. At this point, our learner needs resources that can help her recover from this meeting, learn from the experience, and regain her professional confidence.


When things change. Going back to our customer service agent example, suppose a new system is put into place and every agent needs to update their skills. The change may be big enough to require a full in-person training program, or an eLearning module and appropriate job aids and informative resources will be enough to help them use the new system. If we anticipate that change, we can embed training in the moment of need.
Keep these characteristics in mind as you work through needs analyses in your own work and contemplate them as you progress along your individual learning pathways.