BYTE Session Recap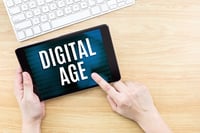 Learning technologies and methodologies have evolved rapidly and dramatically over the past three decades. Instructional designers have had to align these new tools and trends with time-tested and proven theories and models. Recently, guest BYTE speaker Catherine Lombardozzi provided expert insight about talent development in this digital age.
This blog post will highlight the evolution of corporate learning and learning environment design and strategies.
For modern learning environment examples, and solution recommendations, watch the entire recording of Catherine's BYTE session here.
Evolution of Corporate Learning
Learning practitioners know first-hand that every facet of the industry has changed in the last thirty years: classrooms, content, and learners, just to name a few.
Catherine provided more detail about this ongoing evolution, starting with the 1980s:
"In the 80s and 90s, the cost of eLearning came down and tools were easier to use. We were trying to convert classroom learning to eLearning and were scrambling. Then blended learning was a better idea."
Sound familiar? This same cycle has occurred repeatedly. New options emerge, and we feel under pressure to adopt them immediately, all while abandoning previous iterations of the design. Catherine made an interesting point, though, saying:
"What I want you to notice on this arc of progress in corporate L&D is, as we move forward in time, we have not eliminated any of the tools. We have simply added to them. It's not that everything is going to be collaborative learning design. We have new tools and we have to make some decisions about what tools we need to make the learning strategies make the most sense for the need we have in front of us."
This is the new normal: we need to identify the most effective and appropriate treatment for the learning we're designing based on the tools available to us and the defined program objectives.
Learning Environment Design and Strategies
When it comes to modern instructional design, the learning environment is a critical piece of the puzzle. Catherine defined a learning environment as "a deliberately curated collection of resources and activities for learning related to a specific need."
When designing a learning environment, you as the designer pull together appropriate resources and make them available to the program's learners. Catherine uses this vision to think through how to marry structure and freedom.
Catherine recommends a general process including two steps:
Make a list of resources you need for the program.
Package the resources for your learners into a learning environment.
With these high-level design steps in mind, consider these four strategies for learning environment design:
Blended Learning Ecosystem: "layer additional resources around a formal learning event that will help learners learn and grow in that particular area."
Knowledge Exchange: "provide a way for people to access and exchange ideas related to a body of knowledge and procedural skills."
Learning Resource Portal: "you know what the topic is and what people need to learn. Recommend vetted relevant resources on a topic or skill and make them available through an electronic portal."
Collaboratory: "provide a space for collaboration, knowledge creation, and advancement of practice."
For more information about the importance of learning environments in talent development's digital age, access Catherine's full BYTE session recording here.