This post was originally written by Sunder Ramachandran on his blog Learning Experiments. Many thanks for sharing.
The moment you mention social learning, invariably the L&D community starts thinking of Enterprise Social Networks (ESNs). While an ESN may not be a necessary condition for social learning, it does provide a platform that adds a level of tangibility to social behaviours. An online community also enables participants within a learning journey to work out loud (an important ingredient of social learning). (#showyourwork #workoutloud)
The value proposition of a social learning community is easy to articulate. The key drivers being the ability to:
Turn learning events into learning journeys
Sustain engagement throughout the learning track
Create blended learning tracks (Integrate synchronous & asynchronous components)
Flip a learning event by pushing out content to the community
Encourage peer to peer sharing & sense making
Incorporate the 'test as you teach' methodology
While this is not an all inclusive list, it covers most of what a social community can drive. The key challenge however is around building & sustaining the engagement level of learners.
We created a 4 week learning track for our regional trainers to help them respond to the mobile first ecosystem. Here are the top 5 mechanics that helped us drive engagement:
1. Defining the track
You may be engaging in social learning however it still needs to be defined. We started by creating a structured time frame (4 weeks at best). Anything more and you run the risk of participants losing interest and other priorities taking over. Lace each week with structured activities that the participants are expected to perform within the community (i.e reading a slideshare and sharing an example of how a concept can be applied to solve a business problem). Again, it's best to assign no more than 2-3 activities per week. The focus should be on peer to peer sense making & sharing and not sheer consumption of content.
2. Create a reward framework
Few things work better than putting money on the table. We announced a 'Social Learning Champion' of the week award (Flipkart vouchers worth INR 1000 each). The reward was based not just on the level of engagement but also the quality. For example, a participant learned about QR codes in Week 1 of the track and immediately put this into practice in a training session that he was leading.
3. Create a recognition framework
Recognition matters but what matters more, is who the recognition is coming from. We all want to be recognised by senior leaders within the organisation. To this effect, we made a member of the senior leadership team record a 30 second congratulatory message for the social learning champions each week. Needless to say, this drove traffic and social engagement like nothing else.
4. Create a consumer class experience
Participants in a social learning journey will demand a consumer class experience. So if a post does not get a response for over 24 hours and a question does not get answered for days, you probably have the answer for why engagement levels are low. To tackle this, we assigned two of our training managers the responsibility of moderating the community. Their task was to nudge folks to participate, comment, curate answers and generally keep the momentum alive within the group.
5. Consider WebEx / Local meet-ups
To add a synchronous part to this journey, we included a 60 minute weekly WebEx which enabled participants to come together and provide each other the context in which this learning can be applied. We also encouraged participants based in certain regions to organise local meet-ups.
(Participants in a local meet up event in Mumbai)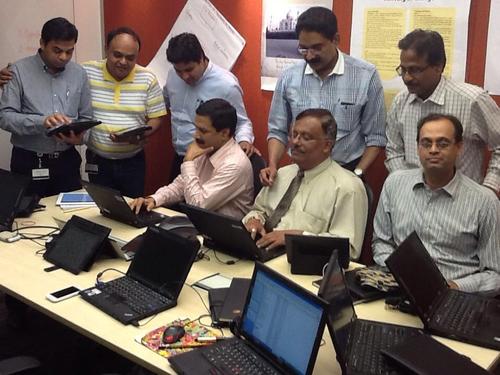 In summary
The days of the debrief and the moral of the story are extinct. Today, people are interested in the story as it's being shaped and not a narration post that has played out. This calls for a change in approach to the overall learning design & engagement process.
What are your thoughts? How can we build more engagement within social learning communities?
Contact Sunder on Twitter.
Here's my digital card with my contact details:
To see the original blog posting, click here.