Today's workforce is more global, virtual, and mobile than ever before. Learning professionals must adapt to this new culture in order to best support modern learners. Based on Jennifer Hofmann's recent BYTE presentation, The Modern Learning Culture - What Makes it Tick?, this microblog series will present ten ways that learning professionals can evolve in order to successfully navigate emerging learning culture.
This is the eighth post in the series. Click here to start with the first post.
For additional information and support, download the InSync Training infographic, What is Driving the Modern Learning Culture, and watch the recording of the BYTE presentation, The Modern Learning Culture - What Makes it Tick?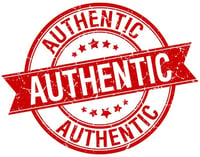 Eighth Way to Evolve with the Modern Learning Culture: Make Learning Authentic
To evolve with the modern learning culture, it's imperative that you make learning authentic.
Defining Learning Authenticity
Learning authenticity means that the learning presents content to participants in a way that mirrors how those skills will be used on-the-job. The modern workplace learning environment is about creating experiences that are very relatable and accessible. To create an authentic learning experience, learning professionals must make sure that we are delivering content to learners in the right place.
The First Step
Before worrying about which technology you're going to include, or which format content will be delivered in, consider where, when, and why participants need to learn this material. Establishing the why, where, and when of any training program builds the foundation for an authentic learning experience for attendees.
The Where and When of Learning
Learning can take place in one of four places:
In the classroom: a classroom is a formal face-to-face environment, in a specific physical space. It is generally comprised of an instructor and multiple learners. Printed materials, slide presentations, and various instructional technologies can support the classroom.


On a desktop computer: an individual's desktop computer has become a learning environment, thanks to the virtualization of learning. This definition assumes that the computer is not located in a formal classroom setting. Rather, individuals are learning while physically separated from one another. Content can be delivered formally using technologies like live virtual classrooms, e-learning, and social learning.


On a mobile device: a mobile classroom refers to a learning experience where the learner is working from a smart phone or a tablet. Mobile, or m-learning, is not a technology – it's a place. I define it as a learning location because many learning technologies can be implemented on a mobile device, including e-learning, virtual classrooms, or video. Learners could be at desks or wherever their jobs may take them. Under this definition, a full-featured laptop is not considered mobile.


On the job (OTJ): on the job learning occurs at the workplace while an employee is actually performing the job. It is an informal process wherein the employee applies new skills and approaches mastery by taking advantage of resources, experts, and learning technologies on an as-needed basis.
When learning occurs falls into one of five categories:
Formal: structured, scheduled learning that is planned. Learners attend at a particular time.
Informal: embedded in the flow of work. Learning does not take place at a designated time.
Collaborative: live training where participants are working together.
Just in time: content provided to the learner by the instructor at the moment of need.
On demand: can be formal or informal, and can be accessed when the learner needs it.
Example
Let's say you're teaching a new customer phone service representative (CSR) how to interact with customers while collecting and inputting data. These representatives work on the phone, so it used to be that we'd bring them to a face-to-face environment, because that was perceived as the best way to teach. But that's not authentic; it's not realistic. That's not where the representatives will be using the skill. I would say that the CSR is best taught in a virtual classroom, because that's more authentic to the environment in which they're going to be performing the task.
Now for a pharmaceutical sales rep, some training on mobile devices would be appropriate because they are on the road. M-learning would also be appropriate for a manufacturing line worker who's working in a factory. In both of these cases, you can combine the mobile lessons with additional one-on-one mentoring.
Final Thoughts
Whenever you're designing learning, keep this mind: you want to teach employees how to do the work in the environment in which they're going to do the work. When learning is authentic, it automatically becomes more relevant and applicable to the learner and their role, thus creating training that sticks.
To read the next post in this series, click here.
For more information on designing authentic learning and many other cutting edge instructional design topics, check out our Virtual Classroom Design Mastery Series certificate course by clicking on the graphic below.