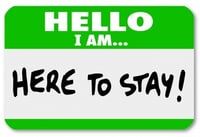 Those who suggest that eLearning and instructional design are dead or dying must have a different view of eLearning than the millions of people who leverage it daily. Instructional design and eLearning are here to stay, evidenced by the sheer numbers of online learning opportunities available to the individual with a laptop, tablet, or smartphone.
What is eLearning?
To have a true discussion about eLearning, it helps to define the term. Elearning is learning that takes place through electronic devices outside of a brick-and-mortar classroom. Due to the portability of devices like smart phones and tablets, eLearning can take place anywhere there is access to the internet.
eLearning Takes on Many Forms
Early eLearning was convenient, but a sometimes cumbersome activity, in which a learner sat in front of a computer in a synchronous online class with an instructor and other learners. Depending on the speed and reliability of one's internet connection, eLearners could endure challenges such as losing the connection. Many academic courses are still taught using the synchronous online classroom, but better internet technology has reduced some of the problems encountered by early eLearning participants.
Another eLearning strategy is the self-paced asynchronous course or learning module that allows a learner to log into a learning management system and complete assignments at his or her own pace. Self-paced learning gives the learner the option of engaging in learning when it is convenient for him or her.
Elearning is becoming more popular and diverse than ever before as learners of all ages desire to retrieve information faster and in smaller chunks. For example, an employee who needs to know how to complete a particular task doesn't need to move through a course module by module; he or she can go to the section that is needed and retrieve only the information that they want. A technician working in the field might access a how-to video to solve a problem without making a phone call back to the shop or office. This is known as "microlearning," the process by which a learner can retrieve the small amount of information in seconds to solve a problem.
Why Instructional Design is Not Dead
Successful eLearning occurs when the resources for eLearning are engaging and user-friendly.
Instructional design is the process that makes eLearning possible. Instructional design and eLearning are often discussed in tandem because for eLearning to be successful, it is necessary to "design" an eLearning product that works for the learner. Instructional design involves assessing learning needs and developing and implementing strategies to meet those needs. Instructional design existed long before eLearning, because instructional design principles are used in the development of all types of curriculum from training and development modules used by sales training companies, to textbooks used by children in school.
The typical instructional design process begins with analyzing learner needs, designing the instruction based on the subject matter, developing the course, determining how the course will be implemented and planning for evaluation. This process known as ADDIE has been the go-to for designing instruction for many years. Designers using the ADDIE approach tend to "perfect" one phase before moving to the next step.
However, not all designers follow ADDIE step-by-step. Some use a variation such as rapid prototyping or the Successive Approximation Model (SAM), a non-linear approach where a scaled-down module or course is developed quickly and can be tested. During implementation, changes can be made without going back to a total redesign as would be needed when using the ADDIE approach.
Using rapid prototyping keeps the design team from getting bogged down with endless iterations before finally testing a training course or workshop. This approach is preferable in situations where time is of the essence.
Imagine a company that develops a new product and is ready to get it out to the market. Time is money. When seeking sales training companies you don't want to wait while eLearning is developed through a long and tedious instructional design process.
Instructional Designers Remain in Demand
Anyone who doubts that instructional design is alive and well should visit an online job site and search for instructional design jobs. Usually, the search will yield hundreds of positions in business and industry. The number of universities with online degree programs makes the case for instructional design being valuable. Instructors and other subject matter experts (SMEs) often do not have the time to determine how a course should be sequenced or designed for online learning.
An instructional designer can help an SME bring a course to life through thoughtful sequencing, gamification, and adding other components such as videos and assessments. An instructional designer can also work with a programmer to develop the course so that it is user-friendly and accessible across various eLearning platforms, including social media.
It is an exciting time for eLearning and instructional design. Learners no longer have to be tethered to a computer in a classroom or office. Technology and the skills of instructional designers have made eLearning possible not only for those academia and business, but those in the most remote areas on the planet can achieve learning with a smart phone and WIFI connection.