This is the fourth post in a series of six which examines how to enable virtual learners. The first post introduces the series.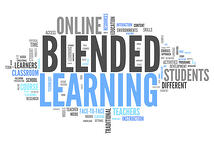 In a previous post, I discussed that blended learning is not a passing fad, and implementing blended learning is key to enabling virtual learners.
We have many options available to us when creating blended training programs. We can build self-paced programs using learning portals, websites, and e-learning. We can develop moderated discussions using social media, discussion boards and email. Finally, we can create real time events using traditional classrooms, videoconferencing, and virtual classrooms. The trick is learning what technologies to use and how to facilitate the blend.
Those of us who have been in the training profession for any length of time know there are always trends and fads. We've been introduced to learning organizations, life-long learning, matrixed teams, virtual classrooms, learning communities, and a myriad of other concepts. Although these practices all have true merit, it takes quite a bit of effort to implement the requisite changes. Worse still, such ideas are often just introduced at the conceptual level and forgotten about after the next reorganization or management change.
With all of these options available to us, how do we choose? Conventional wisdom tells us that the best programs are comprised of a blend of various learning technologies. Blending technologies that take advantage of learning preference, learner convenience, and instructional design best practices enable the developer to create programs that engage the learner and maximize learning retention. For this reason, mixing the best blend of learning technologies is a critical success factor in creating effective online learning environments.
But this isn't news to you. It seems as though everyone is talking about building the right blend. Unfortunately, achieving the right blend requires work—not words. Applying instructional design at the front end and dedicating enough time to facilitate the blend at the back end is critical to success.
Using Instructional Design to Design the Right Mix
Instructional design is critical to the success of any program. That being said, we often shortcut the design process when creating traditionally delivered programs. Because we're still familiar with the medium, it's easy to anticipate how exercises will work, how the audience will respond, and what instructional strategies should be used. The online environment presents new and distinct challenges, though.
What Can be Taught Online?
Surprisingly, this is the wrong question. The question you should ask is, "Which parts of the program can I teach online, and what technology should I use?"
To effectively answer these questions, you need to go back to the instructional design drawing board. Identify the instructional goal, performance objectives, and assessment techniques. (If you're redesigning an existing program, this is a good time to confirm that the original design assumptions remain valid.)
Once you've identified the performance objectives and assessment techniques, think about how you would assess that objective in the online environment. A multiple-choice test? Written essay? Oral feedback? Group application? If the assessment technique is individualized and objective in nature, such as a graded test, then that objective may be effectively delivered asynchronously. If performance is best assessed in an oral or group situation, such as giving effective feedback to a peer, a synchronous delivery method might be most effective for that part of your program. (Want more on this? See Designing Blended Learning with Bloom's Digital Taxonomy.)
During this process, you may identify items that don't require participant assessment, such as reviewing historical information, background content, and so forth. We often include this type of nice-to-know information in traditional programs, so it's natural to try to include the same sort of data in online programs.
This is another example of where the rules change when moving to an online format. My philosophy when designing online content is: "If it's not worth testing, it's not worth teaching!" It's difficult to keep participants motivated and engaged while learning online, and if they don't feel the content is immediately relevant to what they need to accomplish, there's a risk they may not see the value in continuing to participate in the program. Design the nice-to-know content as supplemental, easy-to-access additional material that participants can use when they want but not as a requirement for success.
After you've determined that an individual learning objective will be delivered in a live or self-paced environment, you can outline the specific technologies you will use to create content and assessment techniques.
You may think that if you're converting an existing traditionally-delivered program to an online format, the design stage will take less time than if you were starting from scratch. Actually, the opposite often can be true. Design teams frequently get hung up on what worked in the classroom and try to create an exact duplicate in the online space. If the activities aren't as effective online, the technology is viewed as the culprit. If you approach the program as if it were a new initiative intended to be taught ONLY online, and temporarily disregard what worked in a traditional setting, you will probably discover new effective interactions.
Be careful not to imply that the live (synchronous) components of your blended program are more critical than the self-directed (asynchronous) components. The right blend creates a learning process rather than individual events with a common theme. Each segment of the blend is equally important and relevant. Make sure the design communicates to participants that their individual success depends on them completing each step of the process.
Facilitating Your Blend
As with any training initiative, effective design is only one of the ingredients for success. It's certainly not a case of "if we build it, they will come…and stay." Strong facilitation is critical, especially as participants become accustomed to learning online. The facilitator needs to be ready, willing, and able to manage the
blended initiative.
A common misconception is that the online facilitator's job begins and ends with live events. As blended initiatives become more complex and asynchronous programs become more moderated in nature, the facilitator's role expands in ways not immediately obvious.
Let's take a look at what "ready, willing, and able" means.
Ready. Before facilitating a blend for the first time, the online facilitator needs to be certain that he or she is adequately prepared. At a minimum, the facilitator should:
Understand the virtual learner experience. It's common for new online facilitators to lack experience as online learners. They need to take opportunities to participate in asynchronous, synchronous, and blended programs. They should critically assess these programs from the learner perspective, and note the best practices they want to emulate and the mistakes they want to avoid.
Understand the design. Prior to rehearsing the program, the facilitator should undertake a detailed review of the program design. It's critical that the program activity design strategies are clear. A great way to accomplish this is to spend time with the instructional designer and have questions answered and misunderstandings clarified.
Master the technology. Once the design is reviewed, the facilitator needs to make sure he or she has mastered all of the technology. Besides being able to use the technology, the facilitator needs to be ready to provide some level of support to participants and direct participants to resources for additional information.
Practice managing the blend. Rehearsals are important before any delivery, but they're especially critical for new facilitators. Encourage participation by other facilitators, the instructional designer, and potential audience members. Collect and incorporate feedback prior to the live event.
Willing. Not all classroom instructors want to be virtual facilitators. The best environment for online participants is one in which their facilitator is a willing player. To be effective, and online facilitator must:
Believe in the effectiveness of online learning. If the facilitator doesn't believe online learning works, he or she may not deliver an effective program.
Believe in the effectiveness of the program. The facilitator needs to trust that he or she can deliver the program without affecting their professional credibility as a trainer. Facilitators need to know that the program is effective and that participants will be able to learn. They don't want a program to fail because they're concerned that they will be viewed as responsible.
Able. Finally, the online facilitator needs to rely on his or her environment to support them and the online program. Facilitators need:
Time to get ready. Everyone needs to realize that preparing to teach online takes time, and balance workloads accordingly.
Time to teach. It's more than just the live events; facilitators need to be able to communicate with participants throughout the process. They need time to answer questions, respond to posts, and review assignments. In a blended program, for every hour of synchronous facilitation there may be an additional hour (or more!) of asynchronous facilitation and administration.
Support for the program. Facilitators aren't the only people who need time. Participants need to understand how to learn online and have the time to complete all components of the blend--not just the synchronous components.
Technical support. While part of the facilitator's job is providing technical assistance to participants, they need to have another layer of technical support to assist them. If facilitators are trying to fix the technology, they may not have time to manage the learning process.
Taking the time up front to design effective programs, and allowing the facilitator time to prepare to deliver those programs, will be well worth the time and effort. It will get easier as the industry masters the process—I promise.

We've got a lot more to say on the subject in our Blended Learning Design team workshop. To learn more about blended learning and how you can earn your Blended Learning Design team workshop badge, click on the graphic below to download the full course description.