This is the third post in a series of six which examines how to enable virtual learners. The first post introduces the series.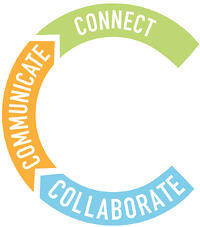 A key to enabling virtual learners is to design opportunities for learners to interact and collaborate. But how do you make virtual learning a collaborative experience?
The answer sounds simple: find ways to bring participants together for social interaction or to solve a problem. Unfortunately, building collaborative exercises remains a major stumbling block for instructional designers when creating virtual or blended programs. Let's look at some techniques you can use to ensure that your virtual programs, both self-directed and live online, hit the mark.
The Learning & Development community has realized that simply using technology to create training isn't enough. Instead, we need to design virtual and blended programs that encourage participants to collaborate. That's all well and good, but what is online collaboration really? Why is it important? How do we achieve it?
Years ago, when trying to find the answers to these questions, I conducted a Google search. I looked at supplier websites, educational portals, and publications. Unfortunately, I couldn't find a single standard definition of collaboration. Academic literature was a little more helpful, and based on that research, I identified the following goal of online collaboration:
When collaborating online, using asynchronous and synchronous online tools, participant groups should be able to get results (solve problems, create project plans, design projects, and so forth) that are better than the results they would have gotten working individually.
It still wasn't a definition, but I agreed with the goal. So, now that we understand the goal of online collaboration, the next question is when should you apply it?
Participants can collaborate and help one another reach learning goals by providing feedback, answering questions, and working as a distributed group. However, it's important not to fall into the trap of thinking that virtual (i.e.: 'synchronous') tools are your only option. In particular, moderated self-paced programs that include such tools as discussion boards and email can be collaborative in nature.
Fundamentally, you want participants to collaborate for two reasons:
Collaboration to achieve participant engagement. (Read my previous blog posting: Use Interaction & Collaboration to Maximize Engagement in the Virtual Classroom for our definitions of engagement, collaboration, and interaction.) Using collaboration to encourage participants to learn is always necessary. When participants know that they'll need to be able demonstrate what they've learned, they tend to stay more engaged. Interaction must include collaborative exercises that ask participants to do more than simply click on a poll answer or raise a hand.
Collaboration to support learning outcomes.

Although all programs should offer some of level of collaboration in order to keep participants engaged, you also may need to create collaborative exercises that support the actual learning goals. This is necessary because online programs often focus on teaching people collaborative skills, such as project management, team building, problem solving and interpersonal skills. These skills are performed in a collaborative social context, so interactions and exercises need to be designed to support the ultimate collaborative goal.
Three Levels of Collaboration
Three levels of collaboration identified in the Amherst H. Wilder Foundation's, Collaboration Handbook, are cooperation, coordination, and true collaboration.
Cooperation
Exercises that are cooperative in nature largely support individual learning goals, and participants tend to be concerned with the results of their personal assessments. If participants are asked to provide feedback or help someone else, they will--as long as it doesn't affect their personal performance.
Here are some examples:
Self-paced (asynchronous) cooperation.

Discussion boards found in online learning software, such as Blackboard, can be strong foundations for cooperative asynchronous exercises. For example, online instructors can ask participants to post answers to study questions in the discussion area. Participants are then required to read the postings by peers and provide some level of feedback. This is an example of learners agreeing to cooperate and assist others because it's a course requirement.

Virtual (synchronous) cooperation.

There are many ways to design mechanisms for participants to answer each other's questions or provide feedback. For example, during an exercise, participants are instructed to provide critical feedback and suggestions using the chat area. Learners may then decide to alter their answers based on the feedback provided by their peers.
Coordination
Coordination occurs when participants start to work together as a group to achieve a common goal. They plan and assign tasks, create deadlines, and deliver a common product (presentation, report, set of answers, and so forth). Although individuals are still concerned with their own performance and assessment, they're willing to work with a group when it supports their personal goals. If one group member starts to fall behind or fails to support the overall group effort, individuals within that group may decide to strike out on their own to ensure personal success.
If your primary reason for collaboration is participant engagement, then coordination may be your most realistic goal. You can ask participants to work together to solve technical problems, but it may not be necessary to make the success of the group their ultimate goal. Here are some examples:
Self-paced (asynchronous) coordination

. In a recent course for an academic degree program, I participated in an asynchronous program that required group coordination. Our group had to create an instructional design project, and each member had different assignments that would merge together to create a completed project. This worked well until one of the team members became ill and was unable to complete his assignment. Concerned about our grades, the rest of the group had to continue and submit the final assignment--without giving credit to the team member who couldn't contribute to the project. This is a perfect example of an exercise in which group members were willing to work together until it became clear that the individual personal success of each participant could be compromised.

Virtual (synchronous) coordination.

In the live environment, participants may work together using such tools as application sharing, group chat, whiteboards, and breakout rooms to solve problems and answer questions. Because synchronous exercises often are short in duration, participants feel comfortable helping one another and working as a group. These types of coordination exercises assist the online instructor in keeping participants engaged, and they help instructors ensure that learning is actually taking place.
True collaboration
When the success of the group is paramount and all individuals must contribute to that success, you have true collaboration. No group member can be left behind and everyone within the group will do whatever it takes to reach the common goal. This is a very altruistic form of interaction and strongly supports collaboration as a learning outcome.
The same asynchronous or synchronous exercises designed for coordination and collaboration can be successful, and indeed work in the same way. The primary difference is whether you want the exercise to meet an engagement goal or a learning outcome goal. Also, in a truly collaborative situation, each individual within a group needs to succeed in order for the entire group to succeed.
Including Collaboration in Your Solution
Because technology-based solutions have become a permanent part of the developer's toolbox, we need to start designing learning exercises that move smoothly between traditional classroom events and online options. For example, during a virtual training event, ask small groups of participants to work on a problem-solving exercise in a breakout room. During the breakout exercise, they can develop additional assignments and follow-up tasks that must be completed prior to the next online event. Between the live events, participants can continue their collaboration using a variety of asynchronous tools, such as discussion boards and email. They can complete their collaborative interaction by making a group presentation to the larger class during the next face-to-face meeting.
These types of solutions are learner-centered and support the concept that learning is a process rather than an event. Once participants become accustomed to collaborating, both synchronously and asynchronously, they may start to incorporate more collaborative techniques into their daily interactions. It's conceivable that participants in online programs may continue to assist each other long after the initial learning experience--thus, creating a learning community.
Clearly there are plenty of options for online collaboration. Take a good look at your virtual and blended programs and consider the level of collaboration that they offer. By using these definitions, you may be surprised to learn that your programs may be more point-and-click than collaborative in nature.
Interested in learning more about creating collaboration and earning your Virtual Classroom Instructional Designer Certificate? Read about our Virtual Classroom Design Mastery Series certificate course by clicking on the graphic below.