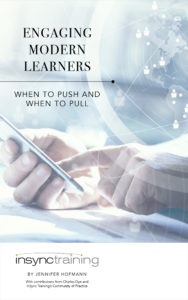 We've been hearing a lot lately about the modern classroom. What makes it different? How is it the same?
There's also been discussion about the fact that the way people learn in this modern classroom has not actually changed at all. Learners still need relevant, timely, and well-designed content. The foundational concepts behind Adult Learning Principles still apply.
I happen to agree with that. There's a reason everything old is new again. What we used to call performance support, many now call microlearning. Reusable learning objects are also now microlearning. What we used to call "chunking" is now spaced learning. Case studies and role-plays now fall under the umbrella of simulations.
Research and experience have taught us a lot about how people learn, and what strategies in instructional techniques best enable that learning.
The big difference now is we have easily accessible technologies that help us implement these instructional strategies and instructional techniques. (For more on this, see our blog, Modern Learning Instructional Design: Strategies, Techniques, and Tech and the associated infographic.)
But the technologies only solve the problem of how to get content to the learners. The modern classroom needs to consider so much more. For example:
Where are learners? Individuals could be learning in a classroom setting, at their desks, from a mobile device, or on the job.
When does learning take place? Design needs to consider all five moments of learning need, including formal prescribed instruction and informal in the moment requirements.
What's driving the business? We are operating in an increasingly global, mobile, and virtual workplace. The changing needs of the business require a change in thinking around how content is delivered.
As an industry, we need to treat the move to a modern classroom as a change initiative and consider how we engage learners in that change. This poses a tough challenge: how do we engage our distracted, overworked, and overwhelmed learners? If we can't engage our learners, our programs fall short of improving learners' on-the-job performance.
We have been operating in a traditional push training culture that's delivery-centered, comprised of scheduled events, centrally managed, siloed, and all about the delivery. We have been focused on what we can capture in the LMS. To really engage learners in the modern workplace, we need to combine traditional training models with a pull learning culture that's learner-centered, on-going, decentralized, shared, peer-based, and results-focused.
The pull learning culture has always been there – we just haven't been involved in designing it. It's time we did.
My eBook, Engaging Modern Learners: When to Push and When to Pull, explores this important topic and helps you better understand:
• The trends driving modern classrooms
• Where and when learning can happen
• The basics of learner engagement
• Three models for creating effective push / pull learning experiences
• A proven process for turning learning theory into practice
• How to evolve with today's learning culture
• Available resources that can guide your instructional design and techniques
Order your instant download copy from Amazon's Kindle Store today!