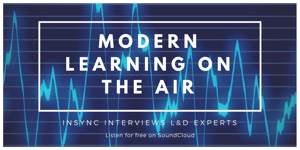 Creating the right learning environment constitutes an important step in the modern instructional design process. Without an authentic setting, training programs fail, and learners don't gain the knowledge they need to perform their jobs effectively.
What do we need to consider when incorporating learning environment design into our approach?
To get started, Catherine Lombardozzi, author of Learning Environments by Design, encourages us to ask, "How do I make a comprehensive learning strategy out of all the ways we can help people to learn, out of all the resources we can give them?"
Phylise Banner, Learning Experience Architect and Modern Learning on the Air host, discussed this topic and more in a recent enlightening interview.
To listen to the 30 minute podcast, click here.
You'll discover:
A helpful definition of the term "learning environment."
Three game-changing components of an innovative approach to learning environment design.
A five-process model you can leverage to create more effective learning environments.
The importance of content curation to a modern instructional design strategy.
….and more!