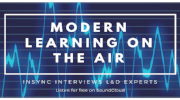 Global organizations are the norm now. The boundaries constraining corporate success and competition no longer fall along state, national, or continental borders. Growth, as demonstrated by companies like Amazon, Apple, and more, has no limit.
Education serves as the true competitive differentiator. Can your learning function adapt to more diverse and international workforces faster than the competition? For this reason, Diversity & Inclusion, also known as D&I, has quickly become a priority for just about every organization.
Trainers, now tasked with supporting dispersed, diverse audiences, need to consider not only individual trainees, but also more complex teams than they did even 10 years ago. We know that the best training programs provide engaging, inclusive learning opportunities for all learners. How do we make that happen?
Listen in as global experts Stephanie Goodell and KeyAnna Schmiedl sit down with Phylise Banner for Modern Learning on the Air to tackle this and other key questions surrounding D&I like:
What does "diversity & inclusion" mean?
What do we need to keep in mind in terms of D&I when designing modern learning?
How do we avoid stereotyping when we're trying to target diverse audiences?
How do you encourage your learners to have participate in difficult conversations within training?
What is the biggest challenge facing L&D diversity & inclusion initiatives?
Follow this link https://soundcloud.com/modern-learning-on-the-air/stephanie-goodell-and-keyanna-schmiedl to hear the 30-minute interview, and walk away with actionable next-steps for improving the processes on your team and the training you're delivering to modern learners.