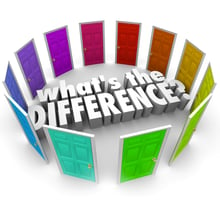 I enjoy asking my fellow instructional designers whether they consider themselves designers or developers. Why?
Because most of the time, they answer with a question: "What's the difference?"
And then I get to wax poetic about the differences in my two favorite phases in ADDIE: Design and Develop.
I adore the Design phase. It's where I take what I learned in the Analysis phase (see my previous blog for details on this phase) and map out a cogent plan of attack for my targeted training solution. During this phase I am:
Reviewing any existing content provided by the SME. Existing content often provides the foundation for a new blend. It's a worthwhile investment of your time to sort through what you already have available to you.


Crafting my learning objectives. (SOAPBOX: Make sure each objective contains a verb that is measurable and/or observable and that coordinates with the Bloom's learning level you are aiming for: Remembering, Understanding, Applying, Analyzing, Evaluation, or Creating. If you are really clever, you will write 3-part learning objectives that clearly state the action your learners will take, the conditions under which they will take that action, and how you will be able to tell they did this correctly. Doing this makes the developer's job so much simpler!)


Chunking the content into modules and lessons. This is where I typically create an outline of the entire course. (SOAPBOX: The outline may be the roadmap, but you are the driver. Don't let the outline drive you! Know your destination and get there however you like.)


Choosing the perfect blend of instructional methods and media that will support my learning objectives. What's the difference between methods and media? Instructional methods are what actually cause learning: things like examples, practice exercises, role plays, discussions, and more. Media is the plural of medium – in other words the delivery mechanism of the training. Media might include a computer, a chat room, a virtual classroom, a workbook, and more. (SOAPBOX: As an instructional method, lecture is boring in any medium, so do not default to it.)


Storyboarding, if necessary. If I am creating eLearning instead of a classroom experience, this is where I make a storyboard for and dream up interesting scenarios to immerse my learners in, problems for them to solve, and practice opportunities with the content.


Putting together a design document. The final step in this phase is preparing a detailed design document that includes everything my stakeholder needs to be able to sign off on the project AND everything that a developer needs to make the learning experience a reality. This includes background, purpose of training, intended audience, objectives, approximate length of course, a list of materials to be created, methods, media, and an assessment strategy. (SOAPBOX: Always include a signature page in your design document. Have your stakeholder sign off on the project as described in the design document. DO NOT begin development until everybody has agreed on the documented approach and signed on the dotted line.)
I adore the Development phase, too! It's where I take the design document that was created (maybe by me, maybe by another designer) and turn it into a living breathing learning experience. If the design document includes everything I mentioned above, I am in great shape and now I can just have FUN and be CREATIVE! During this phase I am:
Identifying existing templates (usually provided by the client)… or creating new templates (sometimes using a client's existing style sheet). A style sheet will typically include fonts, color schemes, graphic styles, and other look-and-feel type of decisions.


Composing a slide presentation to be used in the classroom. (SOAPBOX: If learners ask you for a copy of your PPT, then you are including too much text on your slides. Don't do it! A slide presentation is not a dual-purpose document! Its only purpose is as a construct of talking points. None of your slides should contain full sentences or periods! Think of your slides as a placeholder for your learner's eyes as they listen to your facilitator and build mental models that will help with learning transfer.)


Making a facilitator guide. This document helps program facilitators prep for and teach the program. It often includes scripts, timing, questions to ask, potential correct – and incorrect – answers, outlines, exercises, and more.


Drafting a participant guide as a takeaway for learners. This file will include all pertinent content, practice exercises, appropriate graphics, and blank space for taking notes.


Designing modules, if necessary. If I am creating eLearning instead of a classroom experience, I will skip the three bullet points above and instead begin developing in my chosen authoring tool (Captivate, Storyline, Rise, Lectora, etc.), which, as any eLearning developer knows, is THE SUPER FUN PART.
So, what are YOU? Are you a designer or a developer? If you do both in your role, which do you prefer? Let us know!