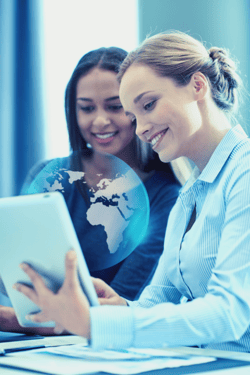 Over the last two decades, our team has grown to over 140 practitioners, modeling learning best practices from their home offices all across the globe.

As we look forward to continuing to design, deliver, and manage impactful training programs long into the future, we asked the InSync team to look back. What have they learned about learning during their careers? What do they wish organizations and learners knew about blended virtual training? What story sticks out to them as particularly memorable?
Introducing our Facilitation Team
Facilitators play a critical role in ensuring the success of virtual learning events and programs. In this complex, dynamic, and sometimes mysterious learning environment, facilitators literally bring learning content to life. Their abilities to engage learners with just their voices (and sometimes their facial expressions when using a webcam) and read the body language in the bandwidth, evolve events into transformative instructional opportunities.
InSync boasts a facilitator bench that:
Includes approximately 45 professional facilitators.

Has an average of 17 years of experience in learning & development.

Can support sessions in just about any platform, including big names like

Zoom

,

Adobe Connect

, and

Webex Training Center

and MSTeams
Wears many hats! Most of our facilitators also specialize in other L&D core competencies like

instructional design

and

virtual learning production

.

InSync also facilitates programs on behalf of our clients in 10 languages and produces in 18 languages.
Why Do You Like Working with InSync?
With such a rich history and depth of experience in the industry, we wanted to know why our facilitators enjoyed working with InSync and our clients. Facilitators shared feedback:
"The variety of work and supportive team willing to share their knowledge." - Virginie C.

"Everyone is kind and supportive. There's always someone around/available to help you out, day or night. I also love that InSync provides its contractors with opportunities to expand our skills and knowledge in other areas." - Lindsay M.

"It is a GREAT group of brilliant self-starters. Everyone is kind and willing to help at any time. We each learn from each other and empower each other to better." - Karen V.

"We all have the same drive for excellence in supporting the learners' experience." - Elizabeth R.
When the Virtual Classroom Gets Wild...
Our team watercooler involves team discussion and chatter – the kind you would find in a traditional office's breakroom. We talk about our day-to-day lives, observations about work and the world, and fun, sometimes astonishing, stories about the trials and triumphs of working in L&D.
Elizabeth, an InSync facilitator with over 20 years of learning & development experience, shared a tale that involved a live online event that welcomed an unexpected learner:
My office leads outside to my backyard. I often have the door open because my officemates consist of cats and a small dog. I was working on an overnight session when I caught a glimpse of something with my eye. It was a gopher that came into the office! I was talking at that moment with the attendees, so I had to stay near my computer to transition slides. It kept coming further into the room, and I held my composure together, though I wanted to let out a bit of a scream, as small creatures freak me out. As soon as I had a moment to mute and get near it, I realized I couldn't shoo it back out the door, since it was too far in the room. What was close was my office bathroom. I proceeded to navigate it to the bathroom and shut the door. After the session was over, I went upstairs to bed and told my husband (my small creature hero) he had a task to attend to in the morning. Since (he uses that bathroom to shower, I thought I should warn him about having to remove a live gopher from the room. But because it was so late and he was half asleep, he really only half-heard my warning and had a bit of a startle himself in the morning. Unfortunately, this isn't my only small creature story while working as I have two cats that like to bring me gifts! Stories for another day...
This demonstrates just one of the many vibrant, unexpected, and masterful moments our facilitators manage in the virtual classroom. We look forward to sharing more lighthearted, impressive insights from our rock star team as we celebrate and recognize virtual facilitators on September 15!
Our facilitators engage learners in public certificate programs, team workshops, and through custom support services. Learn more about our whole team by visiting our About Us page or by subscribing to the blog to receive an alert when upcoming team insight blogs go live.