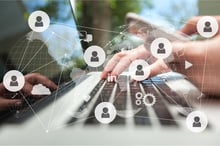 In the modern classroom of today, trainers find themselves in various situations they may not have prepared for. One of common situation is going virtual.
Does this sound familiar? You're going along training for years and then BOOM your company decides to jump on the virtual classroom train. The big question settles in, "How do I make this virtual classroom space feel like a face-to-face classroom?"
I am here to tell you: the answer to that question means really identifying what makes a GREAT face-to-face session so GREAT. Once you realize you can find the tools in the virtual space to bridge the gap between face-to-face learning and the virtual classroom.
Reframe Your Vision
Face-to-face training has many components, and usually includes a mixture of lecture, practice, and independent work. Part of the success in face-to-face training is the interaction and engagement we have when learners are in a room together.
But imagine for a moment the face-to-face classroom: teacher up front, 100+ students in the room in straight rows listening. Learners then get up to work in teams to "practice" the skills taught during lecture and being left to work independently to show mastery.
Fast forward to the virtual classroom. You can:
Use multi-media to break up the lecture.

Create virtual space for learners to hang out and speak about what they learned during the knowledge building session.

Break learners up into smaller groups either to pair and share or to work in teams to apply the knowledge gained.
Once all that is complete, learners are ready to jump into an independent space and showcase learning.
So the question is: do learners have to be face-to-face to interact and engage? I say "no."
Modern learners actually need space to gather knowledge in a meaningful way, practice the skills learned in a safe environment, question the instructor and others, as well as apply those skills with like-minded learners before going off to complete tasks independently.
Tips for Moving from Face-to-Face to Virtual
After years spent in both the traditional and virtual classrooms, I've gained a lot of experience in facilitating successful learning. You'll likely find my tried-and-true tips helpful in your own practice:
Identify the need-to-know and the nice-to-know information of the training. All the need-to-know is content you facilitate in the virtual classroom, and nice-to-know is content for self-directed work learners complete on their own.

Identify all the interaction and engagement built in already. Small group activities, whole group discussion, pair-and-share exercises likely exist in your face-to-face content. Next, find tools in the virtual space to mimic the interaction and engagement. Green checks, red Xs, raise hand tools, public chat, private chat, breakout rooms, application share and more provide great options for many scenarios.

Identify your trainers. Don't assume all face-to-face trainers want to be a virtual trainer. Facilitators that can adjust on the fly, encourage interaction and engagement, are willing to simulate the face to face classroom virtually may be good candidates. Figure out who on your team is both interested and fits the bill, and then spend the time and the money to train them how to bridge the gap between both classroom spaces.

Consider allowing a trainer to focus on content and a producer to focus on the technology. Leveraging an instructional partnership allows the facilitator to connect content and people through the technology while leaving the technical issues to the producer to handle. This tag-team-teaching strategy leads to a much smoother transition to the virtual space.
Many organizations make the move to virtual learning for convenience, as it supports learners in global organizations. Success, though, isn't guaranteed. Re-imagining the possibilities of live online sessions, identifying the must-haves for this new learning environment, and supporting facilitators through their professional evolution can ensure your learners have the best possible training experience.
To learn more about how to make face-to-face lessons go virtual successfully and how to create meaningful lessons without losing engagement, consider reaching out to InSync Training. We offer customized training solutions and training programs that can help you bridge that learning gap as you make your way into the virtual space.