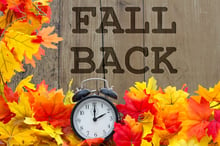 Labor Day weekend in the United States has come and gone. While the sun still shines in many places, most people have put summer behind them and gotten back to the grind of "real life."
With overflowing inboxes, looming project deadlines, and the holiday season in the near future, how do you fall back into a professional development routine?
I polled the InSync Training team to understand ways in which learners and learning professionals alike can incorporate learning into an already busy autumn:
Pick a start date. Competing priorities make it easy to lump professional development in the category of things you "just don't have time for." Avoid this self-defeating mentality by creating a plan. The first point in any learning journey involves getting started. Vickie H. shares, "I like to use specific instances to regroup and restart. For example, all diets tend to start on Monday and New Year's Resolutions begin on January first. Turning back the clock when Daylight Savings Time ends could be a timestamp to regroup and start planning for development through the New Year." Look at your calendar and pick a day to begin your skill-building. Put it on your calendar and stick to it. Getting started is half the battle, and often the hardest part.


Review and revise your goals. Once you know when you want to begin, you need to understand where you want to go. Personal learning journeys include learning objectives like traditional training programs, but in this case you get to select the goals. InSync President Jennifer H. urges everyone to, "Revisit your learning priorities for the year. The goals you set at the beginning of the year may have changed based on your interests or professional responsibilities. It's okay to update your priorities based on need!" The bookends of a defined final destination and an identified starting point empowers many people with the confidence to stick to their professional development plans.


Change your mindset. Many of us have a very specific view of what constitutes up-skilling: long-term practice and deep dives into content. This perceived level of intensity makes it easy to come up with excuses for why personal professional development doesn't fit into our schedules. But referring to a popular instructional design approach might just evolve your mindset to make learning more manageable. For instance, Cathy S., chooses to "Do many easy things that can be finished in five minutes or less. It helps me feel productive. If I do 10 easy things, I feel great, and can tackle some bigger projects." Sure sounds a lot like microlearning, doesn't it? By reading a single article, or watching a short video, or reviewing an infographic, you can learn something new fairly quickly. Breaking up single objectives into multiple components makes your personal learning journey easier to manage mentally.


Use time off to your advantage. The end of summer doesn't mark the end of available time off. In fact, between federal holidays and observed holidays like Thanksgiving, most of us have some free time in Q4. Michele S. likes to "Save professional development for when I'm on vacation…practically the only time I can find to read is when I am away from the office, so I always pack a book for work or learning to read on the plane or during some downtime." Thanks to Amazon and digital downloads like whitepapers and podcasts, you can take learning on-the-go.
These suggestions offer a strong starting point and direction for finding a fall learning routine. Find flexible ways to add learning to your day-to-day routine, and you will end the year on a high note!