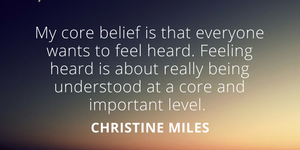 Numerous articles about improving our work/life balance, general performance, and overall happiness encourage us to follow our passion. What's the old adage? Do what you love, and you'll never work a day in your life. Sounds like a far-fetched dream for most of us, and a piece of advice we often can't easily apply to our current professional situation.
Christine Miles, Chief Architect of Ci Squared, knows from experience that finding and following your purpose is a less complicated process, and much more important one, than most of us realize. In fact, she says, "We all have to work for money, but we all should work for what gets us excited in the morning and that's contagious. [Whether you're] a leader or in sales, if you lead with that why, you instantly influence others more profoundly."
Phylise Banner and Christine met to discuss the power of our individual "why" motivation, and their conversation is part of our Modern Learning on the Air podcast series. Listen to the interview to learn:
How slowing down can help us speed up our own performance.
The ways in which small nudges inspire big actions.
The ability of story to open the possibility for change.
The worst possible conversation starter.
Listen to the podcast for free on SoundCloud: https://soundcloud.com/modern-learning-on-the-air/modern-learning-on-the-air-with-christine-miles
Like what you heard? Christine has a live Virtually There session on February 6, 2018. Click here to save your seat to her complimentary event "Customer Hero Story: The Story That Sells."