Today's workforce is more global, virtual, and mobile than ever before. Learning professionals must adapt to this new culture in order to best support modern learners. Based on Jennifer Hofmann's recent BYTE presentation, The Modern Learning Culture - What Makes it Tick?, this microblog series will present ten ways that learning professionals can evolve in order to successfully navigate emerging learning culture.
For additional information and support, download the InSync Training infographic, What is Driving the Modern Learning Culture, and watch the recording of the BYTE presentation, The Modern Learning Culture - What Makes it Tick?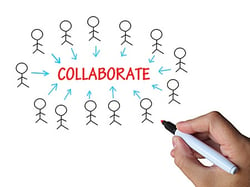 First Way to Evolve with the Modern Learning Culture: Establish Collaboration as a Competency

Learning professionals need to establish collaboration as a competency in order to evolve with the modern learning culture. Doing so will ultimately support the way our learners work. We can all agree that we want to include collaboration in the modern classroom. We want learners to work and learn together. Furthermore, thanks to the functional media tools available to us, we seem to have a toolset that can allow collaboration to take place.

In spite of this, I believe that trainers will find it challenging to establish collaboration as a competency. Why? Because the concept of collaboration is ambiguous. It's hard to say who's in charge of collaboration. For example, if I were to break an online class into groups of five and say, "Complete this task," how would they know who was in charge? Would everyone fully participate?

To avoid these problems, we need to include immersive collaborative experiences, instead of contrived role-plays, in the modern classroom. Learners must be able to model those collaborative exercises back on the job. I believe that if we teach our participants how to collaborate within the safety of a training experience where we aren't just teaching the content, we will teach them how to be successful in their jobs and how to collaborate effectively.

Be Careful!

As wonderful as collaboration is, it can go too far.

If we spend so much time collaborating and we don't get to a decision, that's not a successful collaboration. Collaboration, after all, does not mean consensus!

We need to design our training experiences to have a very clear outcome and a clear conclusion. You can't abdicate responsibility by saying, "We collaborated and didn't come up with an answer." Collaboration should include reaching a decision, supporting that decision, and continuously reviewing that decision to make sure it's right.

Example of Collaboration as a Competency

I worked on a sales training program for high-end sales people. I taught them in the live class how to sell a very high-end product as a group. Each group member had a role, and they worked through an immersive experience that modeled the sales process they complete on the job. This class went on for six virtual sessions. The learners were supposed to take the way they interacted with other people on the team and apply it back to the real job. They then had an evaluation to see how they worked with their team members.

Final Thought

I don't want you to create a class on collaboration. Instead, you should aim to include well-designed collaboration in your program designs through breakout rooms, whiteboards, or social collaborative exercises. Your goal should be to teach people how to collaborate in training so that can bring that over to work.

By establishing collaboration as a competency in your training program, you are evolving to better support learners in the modern workplace learning environment.

To read the next post in this series, click here.

For more hands-on training on how to design for the modern virtual classroom, click on the icon below to download information about the Virtual Classroom Design Mastery Series certificate course.