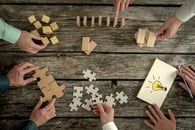 Virtually There session recap
Twenty years ago, if a student needed information to complete an assignment, they would turn to their teacher, the Encyclopedia Britannica, or a library's card catalog to find the answer. Today, a very different reality exists for modern learners. We hold the world's information literally at our finger tips, thanks to the advent of Google and the prevalence of mobile devices and computers.
While technological advancements revolutionized our day-to-day lives, our training programs often live in the past. Many organizations still operate under the assumption that, "If an employee needs to learn something, they'll wait for a formal training program."
More often than not, a learner's moment of need can't wait until a two-day, in-classroom session with an approved facilitator. We need answers, and we need them now.
This mentality doesn't boil down to poor design or facilitation. It's a reflection of an outdated learning culture. Ready to make a change? Follow Jennifer Hofmann's five steps to creating a modern learning culture!
Step 1: Recognize the elements of a modern learning culture.
A successful modern learning culture accurately reflects and adapts to the realities of work today. Oft-referenced Bersin research informs us that our global organizations include diverse, distracted, on-the-go employees. Did you know it's the first time in history we have four generations in the workplace at one time? A modern learning culture must support all their varying needs and consistently engage them.
Modern blended learning recognizes that our adults want to contribute to their learning experiences. A truly modern learning culture focuses on the learners and empowers them to make choices within, and contribute to, their learning processes. Often, modern learning culture calls upon perpetual learning design to address the needs of our modern learners through a design and delivery process considerate of:
Technology
Design
People
Place
Time
Step 2: Spot signs your organization is holding on to outdated culture.
Once you better understand what a modern learning culture includes, it's time to decide whether your current approach hits the mark or is living obliviously in the past.
If your managers don't participate in learner evaluation, or your LMS determines when a training program ends, your culture may be in trouble. In her recent Virtually There session, Is Your Organization Read for Modern Learning? Transform Your Learning Culture for Today's Environment, Jennifer defines six troublesome warning signs to help you better understand your current cultural situation.
Step 3: Identify barriers keeping your organization from moving through the change curve.
If the previous two steps indicate to you that an upgrade to your learning culture would be beneficial, you then have to figure out what stands in the way of a more modern approach.
Every organization faces unique internal challenges preventing them from changing their L&D approach. Internal firewalls that don't allow for social learning, or a shoestring budget that doesn't cover the learning wish-list, come to mind for many. Some challenges are far more common. LinkedIn Learning's 2017 Workplace Learning Report discovered that many organizations struggle with getting employees to make time for learning, training programs based on old information, and small L&D teams.
As they say, "knowing is half the battle." Having an awareness of what barriers stand in your way helps you navigate around them or better manage the associated challenges.
Step 4: Prepare to adopt modern learning.
When we know it's time to make a change, and that there may be barriers to success, next comes planning for achieving our learning culture goals.
We know our culture has to adapt to the needs of both our learners and our organizations. Implementing push / pull and perpetual learning gets us started. Don't forget to communicate changes to stakeholders and managers. In some cases, pilot programs provide an opportunity to introduce the new design and delivery methodologies.
Step 5: Lead the change.
To really create a modern learning culture, the final step is leading the change. Gone are the days of exclusively designing and delivering requested training content. We now have to drive the learning transformation internally. Creating a personal professional development plan helps you identify what competencies you'll need to build to establish your credibility as a modern learning expert.
Remember this process ultimately focuses on a more learner-centric approach to training. Keep that in mind as you work through the steps at you organization, and you'll be on your way to success.
This process is adapted from Jennifer's recent Virtually There session, Is Your Organization Read for Modern Learning? Transform Your Learning Culture for Today's Environment. Subscribe to our blog for more in-depth explanations of each step in the process, coming soon!