Today's workforce is more global, virtual, and mobile than ever before. Learning professionals must adapt to this new culture in order to best support modern learners. Based on Jennifer Hofmann's recent BYTE presentation, The Modern Learning Culture - What Makes it Tick?, this microblog series will present ten ways that learning professionals can evolve in order to successfully navigate emerging learning culture.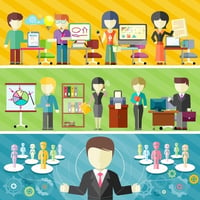 This is the fourth post in the series. Click here to start with the first post.
For additional information and support, download the InSync Training infographic, What is Driving the Modern Learning Culture, and watch the recording of the BYTE presentation, The Modern Learning Culture - What Makes it Tick?
Fourth Way to Evolve with the Modern Learning Culture: Engage Managers in Learning
My fourth recommendation for evolving with the modern learning culture is to engage managers in learning.
I used to get so frustrated and think "Bad managers! Bad managers! You're not supporting your learners!" I now realize though, that we can't fault them for this. Many of these folks never participated in the type of training we're creating, so they have no frame of reference for what support learners need from them. Additionally, we as an industry haven't done a good job of engaging managers.
This combination results in our learners failing to get the support that they need.
Culture overlap
It's hard to separate learning culture from work culture. Content and support provided by us during training doesn't end with the event – learners take the knowledge gained back to their jobs. We reinforce the larger processes in an organization.
For training and education professionals, this is great! We're becoming partners in the business.
This makes our gaining organizational buy-in that much more critical.
My recommended engagement process
To bring managers into the learning loop, I recommend starting by engaging managers early and teaching them how to help their employees maximize learning. This starting point becomes especially important as we introduce more and more tools into the workplace learning environment.
After initial engagement, provide managers with short job aids and set expectations for what learners will be experiencing. Finally, emphasize what happens if participants aren't fully involved or fail to complete the training in the blend.
Example of manager engagement
As training becomes more remote and further away from the trainee, it's harder to test the skills we teach. In a blended learning environment, learners don't get a certificate at the end of the last live event. This provides us with a fantastic opportunity for manager participation.
Create a checklist of skills taught in training for managers. Establish a process for them to observe those learners on the job demonstrating those skills. Managers, by cross referencing the checklist, can then report whether the learning translated to on-the-job application.
Final thought
With manager engagement comes stakeholder buy-in, increased learner and program support, and training reinforcement. Most importantly, if we get management involved early, they are responsible for the performance of their team. Be sure to include manager engagement in your approach to evolving with the modern learning culture.
To read the next post in this series, click here.