Training Magazine Network Recap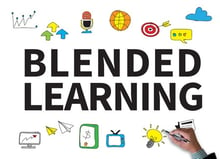 Training has a great track record of successfully teaching learners during formal events, but our programs often don't address informal learning. And we know learners build critical skills during unstructured, non-facilitated events, like Googling a term or asking Holly in HR for guidance.
How does Learning & Development get better at the thing we've traditionally been bad at? Jennifer Hofmann, graciously hosted by Training Magazine Network, shared an answer with fellow practitioners recently.
Modern blended learning, Jennifer believes, should be the new training norm. Nothing we design stands alone anymore, and no moment of learning need goes unaddressed. Every resource, live event, and social collaborative opportunity exists in support of each other and our learners.
This blog recaps key elements of Jennifer's session, The Right Stuff: A Model for Modern Blended Learning That's out of This World. To review all wisdom shared, watch the full replay here.
Modern Instructional Design: The Fundamentals
Modern blended learning instructional designs include three key elements:
Instructional Strategies: utilized to help learners achieve desired level of mastery for specific learning objectives. Think: task-based learning, game-based learning, and case-based learning.
Instructional Techniques: the instructional technique or techniques used to implement instructional strategies. Think: gamification and lecture.
Instructional Technologies: technologies and tools used to support instructional techniques. Think: immersive learning experiences or curation.
When used in combination, they address all of the learners' moments of learning need.
At a high-level, when designing modern blended learning, we look at a piece of content and ask, "What's the right strategy for teaching that content? How are we going to implement that strategy? How do we deploy the content out to our learners?"
For clarity, Jennifer explained:
"Modern instructional design is more than just looking at learning objectives and creating a design document. We need to be thoughtful about everything we're doing because different learning objectives may require different strategies and there may be multiple techniques and tech within one strategy."
Modernize Your Mindset
We aren't designing courses or classes anymore. We're designing learning campaigns. Shifting your perception helps you create learning experiences that better accommodate all the times our learners potentially need our content.
Unlike courses, campaigns connect the dots between all of the resources for a single topic, so learners can define and follow their own learning pathways. Learners engage with the content based on their desired level of subject mastery. Not every individual needs to absorb and participate in every resource.
Campaigns address the textbook definition of blended learning:
"A series of content blocks that are sequenced to create modern learning experience. Typically, this is a managed, trackable curriculum with a beginning and an end. To accomplish this, learning objectives are matched to the most appropriate delivery medium and learning environment to ensure that participants learn through facilitator-led delivery of content with some element of participant control over "where, when, pace, or path in the overall program sequence."
Learning campaigns empower us as designers and trainers to identify the most appropriate instructional strategy for each learning objective, providing learners with authentic learning experiences. Each resource is standalone, reusable, and designed to work in harmony for a larger cohesive program.
Keep this in mind for your next instructional design project and work toward modern blended learning.
Additional Resources