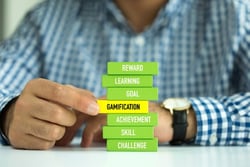 Badges, leaderboards, leveling up. These buzzwords sound like features in the latest video game, but, actually, they're modern learning staples thanks to gamification and game-based learning.
Instructional designers know that gamification's flexibility and adaptability make it useful for many programs, including new hire orientation, compliance training, and technical skill building.
As commonplace as gamification and game-based learning have become, the difference between the two categories can get muddied. Gain clarity with a helpful, quick video exploration thanks to Donna Designer Explores Gamification and Game-Based Learning.
Donna, our instructional design superhero, covers:
The basics of both popular design options,
defines fundamental differences between game-based learning and gamification, and
sagely explains, "They're both fun, have clear learning objectives, engage and motivate learners, and present realistic work-related scenarios and situations." What's most surprising, though, is that fundamentally, these models don't always gain their power from pitting learners against each other through competition.
Whether you're an instructional designer, learner, facilitator, or training manager, understanding gamification and game-based learning help you better navigate the modern learning landscape.