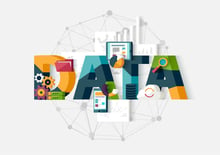 A recent article by Harvard Business Review explored How Wearable AI Will Amplify Human Intelligence.
Author Lauren Golembiewski explains
"Intelligence amplification is the use of technology to augment human intelligence. And a paradigm shift is on the horizon, where new devices will offer less intrusive, more intuitive ways to amplify our intelligence."
While the article explores a number of incredible emerging technology options, I started to look beyond the surface-level bells and whistles. A common thread runs between the highlighted technologies, and those we encounter in training: data collection.
The technology provides more information than what we previously had access to. But it only helps us if we:
Properly collect, organize, and analyze the data; and
Interpret the information to make decisions
Information Systems thought leader Dr. Rajiv Kohli once said to my MBA cohort, "Technology is agnostic. It's how we use it. [The information] tech provides is more expensive and valuable than the platforms themselves. The data integrity and format matters to get usable information out of it."
So how can L&D and other corporate teams look beyond technology and better leverage data? Try focusing on a few specific processes:
Collection. In learning, we have many ways of collecting data about our programs. By including measurement & evaluation approaches in our programs, we can purposefully gather data about learner performance and their response to programs. Defining what data decision makers need and what points relate to stated objectives should influence the collection process.
Organization. Simply dumping data into Excel or relying on an LMS to keep things straight will not prove successful in the long run. Instead, think through questions like: Where will raw data live? How will the organization catalog and categorize it? Who will have access? Thinking through a system at the outset of your dalliance with data ensures its accessibility and applicability. Here, you can also use technology to support the process where logical and appropriate.
Analysis. Data needs context to make sense, and analysis transforms inputs into information. This process helps identify trends and patterns – and many options exist to do the heavy lifting, so you don't have to put fingers-on-keyboard in a time intensive process. But, before running the numbers, many experts recommend that you "scrub the data." This does not mean, however, you should manipulate the data or delete numbers you don't like. Rather, it allows you to make sure the inputs were accurately cataloged to avoid the "garbage in, garbage out" phenomenon.
Interpretation. The most important process related to data involves understanding its insights. Sometimes we resist the message, especially if the results say our efforts missed the mark. Go into this step willing to realistically review and pragmatically respond to the analysis, so the data can begin to work for the organization.
Using data in your professional projects embraces an iterative approach to work. Believing that a first version of a project or program meets 100% of objectives hinders progress. Recognizing that you can and should improve your work shows operational maturity. Use data to make small (or major) changes to deliverables, and the results will astound you!