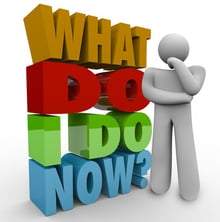 You just became a virtual learning facilitator or your organization has made the leap from face-to-face learning to the blended virtual classroom.
So now what?
The live online training environment does not provide a carbon copy instructional experience to the traditional classroom. Oftentimes, you cannot "see" the learners. You have to contend with technology, and sometimes decision makers did not invest in content redesign. Add to these factors the angst associated with assuming new responsibilities and getting started as a facilitator can feel overwhelming.
Have no fear! To become a successful virtual classroom facilitator, make sure you focus on building three key areas:
The technology
Your team
New tools
1. Technology
Fundamentally, the virtual classroom relies on technology. As a facilitator, you cannot ignore the importance of understanding and mastering the platform(s) in which you will work. The answers to the following critical questions can guide your technical skill building.
Which virtual classroom does your organization use? A quick Google search for "virtual classroom platforms" reveals a modern learning reality: EdTech emerges every day, and they all have different features and functionalities. Take your first step toward success by understanding which platforms and technologies you need to competently and confidently navigate.
Do my learners have any technical limitations? The most important element of any training program is your learners – they deserve your consideration. Dispersed learners may have different bandwidth and tech challenges. Gaining an awareness of your learners' EdTech situation allows you to facilitate an engaging and equivalent experience.
Does this virtual classroom have any odd quirks? Do some research to find out whether your platform does not support certain file types (like PDF) or if a particular instructional activity (like breakout rooms) needs to be set up before the live event. As a virtual classroom facilitator, your job requires that you not only provide an intellectually valuable event, but host a technically seamless one, as well.
2. Team
Effective virtual classroom facilitation does not happen in a vacuum. An entire group of people can inspire or hinder your effectiveness or the success of your learners. Consider for instance:
Who will join your instructional team? Identify whether other people will join the training program in a host capacity, including subject matter experts on the featured topic or technical content, or a producer who can help support learners during the live event. Whether you will facilitate alone, or you will have instructional partners helping you manage the blend, as a facilitator you will have to adapt your approach to support the situation.
Who is part of your Personal Learning Network (PLN)? Your PLN offers an invaluable resource as you take on new responsibilities. Look through your LinkedIn connections, old college friends, and coworkers – who has experience in the virtual classroom? Reach out, ask for guidance, tips, and techniques, exchange ideas. Experiential insights from others with virtual classroom experience can change your perspective and up your game.
What can your learners discover from each other? Mark, one of our expert facilitators offered some sage wisdom, saying, "You'll figure out the technology over time. Focus your energy on people and connect to them above the technology. Focus on getting learners to connect to each other. Get them talking about what they know and have experienced as much as possible. This means you have to ask lots of questions and be ready for answers." By following core Adult Learning Theory principles, you can leverage the existing knowledge of your learners, and their willingness to contribute, to create a more engaging and enriching learning event.
3. Tools
All professionals have toolkits – a set of helpful resources and job aids that make them more efficient and more effective. Virtual learning facilitators are no different. Curate your own toolkit by exploring:
What information can I gain from my team or organization? If your company has chosen to add virtual learning to their blends, they may have created or made available process guides. Questions are free!
Which professional development options can you pursue? Never forget, L&D professionals require learning opportunities. Explore accredited programs, or even YouTube if you have a limited budget, to purposefully improve your facilitation approach.
How will I compile my resources for easy access? Curation of your personal learning assets only helps if you can access them in moments of need. Create a filing system (either old school or on a digital program like Evernote) and try to refer to the tools when in practice sessions to build (mental) muscle memory.
Advice from the InSync Team
InSync Training is staffed by leading industry experts with thousands of hours of virtual classroom experience. Recently, I turned to the InSync Training team to find out, "If you could share advice with new facilitators, what tips would you give them?" They generously shared:
"Practice and focus on details." – Manuel S.
"Try to make the technology disappear. Instead of saying, 'Jane, I see that your hand is up, do you have a question?' Ask, 'Hi Jane, do you have a question?' The more you make the technology disappear, the more the learners will focus on the content." – Vickie H.
"Trust your producer when advice is provided. For example, if they prompt, 'Maybe this is a good time for break…' They probably know something you don't." – Jennifer H.
"Join sessions early so you don't feel rushed or overwhelmed as participants join. Take it one piece at a time for each session: gather materials, get to the room, get room set up, talk to producer, prep before learners join. Repeat. Focus on the learners and the content, and you will do great!" Jennifer N.
Like all skills, facilitation requires practice. But with the right approach to learning, collaboration, and preparation, you will soon lead memorable training programs with ease!
Ready to take your facilitation skills to the next level? Build fundamental skills and advanced techniques in the Virtual Classroom Facilitation Mastery Series certificate program.