Virtually There Session Recap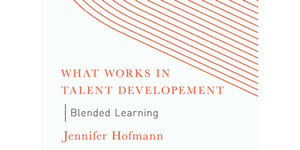 So your organization has made blended learning a priority. But while you know you need to move your training programs into the future, you wonder how doing so will affect learning results. And though some of you have tried blended learning before, the programs didn't meet your expectations and you worry about trying again.
A strategic plan quells these fears and improves the likelihood of program success. Get started with Jennifer Hofmann's exclusive blended learning instructional design and implementation model: Campaign Blueprints.
The Basics
Contrary to popular belief, Jennifer asserts that "instructional design is critical to blended learning. In fact, it's more important than it's ever been before."
Your instructional design process should:
Start with a needs assessment.
Define your learning objectives.
Design your program using identified needs and objectives as the central focus.
Remember: The most effective blends select the most authentic treatment for each learning objective.
Campaign Blueprints: A Game-Changer
Jennifer identified two key elements of modern blended learning:
Learning Hubs: an area of practice with a single focus that contains every resource, lesson, and activity for that particular topic. An example would be your organization's Leadership University housed in an LMS.
Learning Campaign: Hub resources organized into different courses accessible by learners.
Each campaign often has an overwhelming amount of information and content that needs to be organized. That's where the campaign blueprint comes in.
A campaign blueprint is a learner-centered document that details the information contained in an entire course. Ideally, if written correctly, it can replace a traditional course description.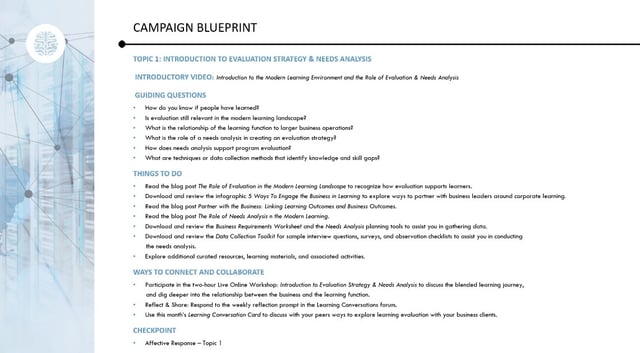 Campaign blueprints include the following elements:
Guiding Questions – "Instead of starting off with the learning objectives, imagine a conversation with your instructional design clients [such as], 'What questions do you want answered by this training program?'" Jennifer says. "Guiding questions turn learning objectives into a way to design using inquiry-based learning." This method, such as using Google for research, is how most learners find information.
Things to Do – Give directives to learners that will teach lessons or provide useful resources and activities. Make sure that each line item starts with an action verb, such as "read an article," "download a tool," or "explore results."
Ways to Connect & Collaborate – This section includes live lessons, either virtual or traditional face-to-face classroom events. Further learner interactions include discussion boards, social media, and more.
Checkpoints – Assessment techniques are defined.
One Last Thing
Campaign blueprints are working documents.
Jennifer reminds us that:
"Your campaign blueprint will change because it's a way of discussing what we want people to learn, and do, and how we want them to connect. It helps us start to think about breaking down this large blended learning design into individual discrete pieces of content."
Looking for more information? Watch the replay of Jennifer's Virtually There session, Blended Learning: What Works, or order her new book for the ATD What Works in Talent Development series. Both resources provide step-by-step processes and tools for designing blended learning programs.