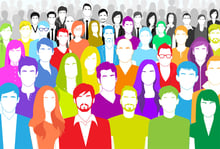 Training success relies heavily on the audience. If participants don't believe content connects to their needs, they will not engage.
And can you blame them? We all feel like we have many projects, tasks, and responsibilities. We simply do not have the time to invest in an event that we perceive as irrelevant.
As training practitioners, getting to know our learners can pave the way toward more impactful programs.
For better results, keep these five characteristics in mind ahead of your next facilitation, design, or production activity:
5 Generations. 1 Classroom. In-person or online, our workplaces now include 5 generations. Trainers have to train them all. Think of the differences in experiences, perspectives, and skillsets these groups bring to the table. Appealing to and supporting Traditionalists require different approaches than those needed to guide Gen Z'ers. Even having an awareness of this diversity can improve your communication and influence.


Search Engine Learning. Regardless of age, today's learners love Google. It answers questions quickly, effectively, and directly. They crave similar efficiency from formal programs. Can your training event fill that need? Does it provide resources for the questions they encounter on-the-job? Does the organization schedule the training thoughtfully so events take place at key milestones and after major changes? Most importantly, do learners know how to access that content when the program ends?


Modern = Mobile. Think about the last search query you submitted or the most recent email you sent. You probably used your cell phone to complete that action. In addition to how common mobile devices have become, our employees now travel, work from the road, and participate in virtual teams. Learning needs to adapt to this workforce evolution.


Strongly Social. The watercooler used to offer the place for workplace connection. Now, that collaboration and community takes place online. Thanks to social networks, learners have more far-reaching connections with their peers. Colleagues can answer questions, share resources, and build rapport across time zones and borders. Learners rightfully assume they will have access to similar socialization during training.


Overworked and Overwhelmed. By now, you've likely read or come across the famous results of the Bersin study that discusses that learners today feel overworked and distracted. This frustration understandably makes them impatient – they need the answers, they need them now, and they need to move on. Social networks and search engines support that mission in day-to-day life. But organization-approved training can (and should) enable that same efficiency on-the-job.
Understanding who your modern learners are and the environments they work and live in helps you better serve them. With the right design, implementation, and instructional approach, learning does not become just another item on the to-do list. It equips and empowers learners to do their jobs more effectively!
Learn more about how to support modern learners by visiting our resource library for Virtually There replays, infographics, and in-depth whitepapers.