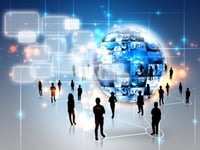 BYTE Session Recap
The modern workplace is continuing to evolve. Traditional in-house teams are quickly becoming globally dispersed and virtual. Our friend in the industry, Marjorie Derven, spoke with an InSync Training BYTE session audience on March 8th about this enterprise-wide transformation.
This blog post will define Global Virtual Team (GVT) basics, the role of talent leaders, an approach for building a successful GVT, and additional resources.
To access all of Marjorie's wisdom, watch her full BYTE session recording here.
Global Virtual Teams: The Basics
Marjorie defined a GVT as, "A group of people who work together to achieve defined goals, with some or all team members separated by physical distance, language, culture, time zones, and competing local priorities."
The Society for Human Resource Management's extensive research reveals that GVTs serve three main purposes. First, they include talent in different geographic locations. Second, they boost collaboration among employees in different places. Third, they improve productivity. This research also revealed that successful GVTs brainstorm solutions for problems, set goals for team initiatives, and develop plans for team projects.
Why do organizations choose to include GVTs in their internal structure? Marjorie highlighted a number of benefits. For example, organizational operations can occur 24/7, rather than being limited to a single time-zone. Employers can also source the best talent. This is especially important because, as The Conference Board Research highlights, "We have a mismatch globally with talent…we have a shortage of highly skilled talent and a surplus of low skilled talent. GVTs allow organizations to look across borders and bring the right people in." Furthermore, GVTs build a company presence in "local markets, allowing them to judge channels of delivery, customs, rules, and regulations that can't be replicated somewhere else."
Role of Talent Leaders
Marjorie explained that "the role of talent leaders is to know the talent cycle, and prepare organizations for success and be agile for future requirements." Because talent leaders can prepare organizations for success and in the future, they play a vital role in business development and stability.
With more people working on GVTs, Marjorie said, "talent leaders must shift how they're working with people, leveraging technology, and understanding the challenges of people in remote locations." Besides talent leaders making GVTs more effective, they also "identify high potential talent and look across the organization to see where talent resides." Under the direction of talent leaders, stretch assignments can become part of succession planning.
Marjorie argues that talent leaders help HR earn the perennially wished for "seat at the table." They save the seat because their actions "demonstrate the value of HR to business results, they build global mindset, and identify and share best practices."
Building Successful GVTs: An Approach
Talent leaders need to have a systemized approach if they're going to build and nurture effective GVTs in their organizations. At a high-level, Marjorie encouraged you to start off by "building a case for why you need a better GVT process." Next, "define success factors…and create GVT tools" to drive sustainable success.
To achieve these milestones, Marjorie recommends this ten step methodology:
Phase 1: Diagnostic
Obtain sponsorship
Identify high and low performing GVTs
Collect data
Analyze findings and report to sponsors/stakeholders
Phase 2: Create Solutions

Create GVT tools that are easily accessible and customizable to different teams based on their issues, culture, and stage of development
Pilot test
Revise as needed
Finalize and socialize (i.e. demonstrate that you've been able to move the needle on how GVTs operate).
Phase 3: Execution

Implement
Track and collaborate
Additional Resources
Marjorie kindly shared the following resources with BYTE attendees:
To learn about a model for effective virtual teams, guidance for developing online GVT tools, and Marjorie's lessons learned, watch her full BYTE session recording here.