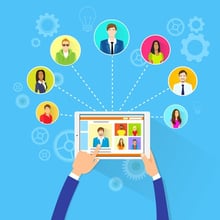 BYTE Session Recap
Thanks to technological advances, physical walls and single zip codes no longer constrain our organizations. Virtual teams have grown rapidly and widely in the last 10 years – managers can lead, even when working from different continents then their reports.
Organizations have the ability to hire the best talent, regardless of applicant address. While this is certainly wonderful, there are challenges associated with this business model and management category.
Recently, guest BYTE speaker Mary Kingsley provided sage advice to leaders looking to inspire their global virtual teams. Watch the entire replay to learn about the cultural assumptions you need to let go of for success, habits you can build to increase your cross-cultural listening abilities, and how to develop an effective communication pattern that ensures clarity in the virtual environment.
BYTE learners taught us something too: their proven techniques for, and frustrating truths that hinder, virtual team success.
Global Virtual Teams: What Works
Virtual teams come in many sizes and iterations, but a few things work universally in creating an effective remote team environment. BYTE learners recommend:
Self-paced training. Work with Learning and Development to create blended learning programs that include virtual classroom and microlearning that allow learners to build their professional skills from their home-base (when appropriate). With this design model, you don't have to bring learners to the same place to learn, which can be cost (and time) prohibitive.
Put it on the calendar. Schedule meetings, team bonding, learning opportunities, and more. Vary the start times so all team members have to adapt their schedules at some point to accommodate the event.
Create a technical toolkit for connecting and collaborating. EdTech options like Skype, Gchat, Microsoft Teams, and Yammer all have features that make it easier for global virtual teams to ask questions, talk, and work together.
Reaching out intentionally on a regular basis. Recreate the spontaneity of "stopping by" in an office. Just try not to drop by every day in the last five minutes of the work day – that can feel like "checking on" more than "checking in."
Learn about and share cultural differences. There's no such thing as "one right way." For example, what is unique about how your team in Australia works and communicates, compared to your US-based employees? Share the wisdom, embrace diversity, and create a unique model that works for your team.
Make it personal. Build relationships through chit chat, games, and ice breakers. Through regular conversation and interaction about non-work related topics, you can increase the comfort and trust your team has in their coworkers.
Global Virtual Teams: What's Frustrating
Flexible schedules, improved work-life balance, and decreased commute times can't always make up for the frustration felt in some virtual teams. Common challenges BYTE learners have experienced include:
Quiet participants. Just like in training, managers can ask their virtual team for feedback or ideas and hear crickets on the other end of the virtual line. One possible solution is to identify the root cause of the problem: do team members not know which technology to use to participate? Do employees feel uncomfortable sharing their thoughts because they believe there will be negative repercussions? Is there a cultural reason or language barrier that precludes them from contributing? Find out! The answer may have less to do with employee disengagement than initially believed.
Connectivity issues. Poor internet connections and slow bandwidth can cramp the style (and productivity) of virtual teams. If you are working with employees in an emerging market or location with slower internet, select your collaboration and work tools with those demographics in mind.
Sense of being on an island. Mary knows what this feels like, and sees it quite often in her work, sharing, "This can happen to anyone in a virtual environment unless you work on preventing that from happening; setting up time to meet with your people as a manager. The only leadership style I have seen not work in a virtual setting is the people who lead by walking past someone and saying, 'Oh! I have something to say to them!' You have to really schedule yourself."
Multitasking. When someone's distracted on a conference call or WebEx Meeting, you can sense it. Work to engage employees on calls, and creatively boost interactivity when possible. Before any virtual get-together make note of the "What's In It For Me. (WIIFM)." When employees understand how something relates to their job, they're more likely to fully engage.