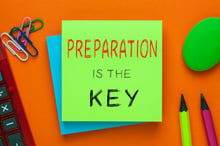 Going global is a big job.
Before you volunteer to lead a global training implementation, it might be time to inventory your own skills.
Chances are, you are not an expert at every piece of implementing a global project. (If you are, feel free to drop me a note!)
Design the Journey
When designing your own personal learning plan, or PLP, you should go about it with the same diligence you would use when designing a program for your traditional learning audience. You probably use an instructional design model like ADDIE all the time – you can use the same framework to create a blended learning journey just for you.
1. Analyze. Identify your skills and conduct a personal gap analysis, focusing specifically on three areas:
Project Management. A global implementation will require you to manage a large, dispersed project team. You will also need to manage a complex set of timelines, resources, and work to a budget. A project management approach is a fundamentally important consideration.

Cultural Intelligence. To create a content plan and implementation strategy that works across cultures and create a true global classroom experience, you need to learn about how culture influences learner dynamics. You'll need to be able to regionalize your content, and coach your implementation team on how to develop and deliver content that meets the needs of global audiences.


Modern Learning Instructional Design: Strategies, Techniques, and Technologies. You don't have to be expert in developing content using every type of tool that comes along, but you DO need to have a working knowledge of how the application of modern instructional strategies, techniques, and technologies fit into the overall strategy, and you need to be able to competently explain these to your larger project team and stakeholders.

Instructional strategies. Modern learning design requires you be familiar with modern instructional strategies, which include game-based learning, social collaborative learning, problem-based learning, self-directed learning, case-based learning, and task-based instruction, among others.
Instructional techniques. You certainly have heard about techniques like curation and gamification, but do you know how they support a global initiative, and the associated benefits and challenges?
Instructional technologies. A global blend will require an understanding of what instructional technologies are available to your organization, and what those tools are capable of accomplishing. We've identified six categories of instructional technologies; read more about them here.
2. Design. After you have identified your gaps, formulate performance objectives for your own personal learning path – and prioritize these objectives. Remember that you're not going to be able to learn everything you need to in just one day.
3. Develop. Formalize your personal learning network (PLN) and identify which resources support your priorities. Your personal learning network should include regional training representatives from around your organization. These individuals will help you build relevant cultural intelligence, and provide the best guidance on how to regionalize your content. Create a plan for how, when, and how often you will utilize this network, and establish a personal evaluation strategy so you know when you've met your goals.
4. Implement. Schedule time for deep work so you can learn in a protected environment. Practice what you've learned – and talk about it with your peers. Your personal professional development is as important as the training you plan, design, and deliver for your learners. Remain steadfast in your commitment to your schedule!
5. Evaluate. Self-evaluation can be difficult. Consider making presentations to your project team about what you've learned, and asking them for feedback on those presentations. Involve your managers and stakeholders. Just keep learning.
Curate the Experience
I believe that curation is critical to managing our own PLN and our own learning journey. It's easy to collect all the information we can from all the sources that are available, and have good intentions about absorbing it all.
It's simply not realistic – if you're like me, no matter how much information you collected in your inbox, when you have an immediate need you turn to your favorite search engine. This doesn't create a disciplined learning experience, and doesn't help you identify what content is most valuable to you.
After you've identified the components of your PLN, and organized it in a truly useful, accessible, and efficient way, you can start the process of curating the most important information.
And don't forget to share! After all, you're asking members of your global team to contribute to your learning goals; show your gratitude by compiling your curated insights and sharing them back out to your network. For more details on how to curate your own PLN, read Curation is the Key to Managing your Personal Learning Network.
What's Next in The Blog: Next time, I'll share resources that are part of my PLN when I need to learn more about modern learning in a global environment.