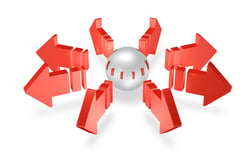 This month, we spent a lot of time addressing how your organization can implement a global learning initiative. We discussed that the winning formula for going global is finding the right balance between content and people, and then identifying how to connect content and people throughout instructional design and training delivery processes.
Learning how to take your training programs global isn't easy. It takes personal evolution from instructional designer or project manager to becoming a learning experience architect. And this change requires an investment in your own professional development. You need to understand the business of learning, modern design technologies and strategies, and be able to identify opportunities for collaboration that make sense.
The design is a journey, we need to apply what you know about instructional design to create a development plan that works.
There is a lot of information out there about how to implement a global training strategy. We've compiled our own resources into a toolkit that you can download at the bottom of this blog post.
Additionally, here are a few resources from around the world that I thought you might find useful.
If you are creating your plan to go global, consider adding the authors, experts, and other resources below to your personal learning network.
Article: Finding Beauty In The Balance L&D: as global as possible, as local as necessary. Jan Rijken, CrossKnowledge Learning Institute. Sometimes, I find a quick piece of content that helps me re-frame my thoughts about a particular learning and development topic. The author's use of the phrase "make L&D as global as possible and as local as necessary" created one of those moments for me – that's really what we are all trying to do with a global strategy. It gets to my point of connecting content and people, while balancing the needs of learners and the business.
E-book: Modern Workplace Learning 2019: A Framework for Continuous Improvement, Learning & Development at Work. Jane Hart.
Jane Hart always has a clarifying way of explaining how the workplace is evolving, and how our approach to training design and delivery needs to evolve with it. This e-book is practical and in-depth at the same time. It's worth the cost and the time it takes to review the content. Download the first chapter, The Evolving World of Work, for free.
Book: Raver, J.L. & Van Dyne, L. (2018). Developing Cultural Intelligence. In K.G. Brown (Ed.), The Cambridge Handbook of Workplace Training and Employee Development (407-440). Cambridge, UK: Cambridge University Press
There are many vendors who specialize in training teams how to develop cultural intelligence so they can more effectively interact with a global workforce. And, cultural intelligence as a competency is critical for your global training implementation team. It impacts how we design content and how facilitators and producers interact with their training audiences. Before hiring a vendor, I recommend reading this article to get a foundational understanding of this critical competency. It's an academic approach to a very practical need. Download the chapter.
Addition Resources from Around the Web