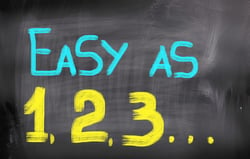 Okay. Not really. Leading a global training project takes more than being an instructional designer or a trainer or even a project manager. I've identified three critical steps to leading a successful global training project:
E

volving your role into a learning experience architect.

M

astering how to connect people and content in a way that meets the needs of the business and the learners.

C

reating a plan that addresses the complexity of a global rollout.
Becoming the Learning Experience Architect

Modern organizations require training programs that can support an increasingly virtual, global, and mobile workforce. These complex blended learning training initiatives require a more evolved role to lead them. This is the learning experience architect.
Training professionals don't become learning experience architects overnight. In order to achieve this level of competence, we need to:
Know

how to design programs that meet the needs of learners in all of their moments of learning need

.

Understand how to use a variety of education technologies to accomplish this goal.

Know how to engage stakeholders across the enterprise and across the globe.
This takes an investment in our own professional development.
But how can training professionals create personal learning journeys that help them define, create, and implement a winning formula for going global with training in their organizations?
First, focus on developing the core competencies you need to be successful in your new role.

Then, refine your skills so you can create the right chemistry between content and people in your organization.

Finally, create a plan which meets the needs of learners and the business, while creating a model for future global programs.
Core Competencies
As we've discussed in the past, to establish credibility as an expert in this new paradigm for learning, you need to create a personal learning plan which focuses on three core competencies.
Understand the business of learning

. Today, business stakeholders require that training programs closely align with business goals. Training organizations need to do more than "get people to training," we need to ensure that the investment in time, resources, and technology create an effective and enabled workforce. At the same time, programs need to meet the needs of modern learners by embedding content when and where learners need it. This is the business of learning today,

balancing business goals and learner needs. It's critical that you get insight into the specifics of your business by becoming familiar with documents like the annual report, attending corporate update meetings, and developing strong working relationships with potential stakeholders who understand the true needs of the business. As far as meeting the needs of modern learners, always remember that

YOU

are also a modern learner. Start by imagining yourself going through the proposed learning journey, and create an experience YOU would benefit from.



Design learning by using modern technology and design strategies.

It seems like every month there is a new technology

about

which we are expected to be experts. AR, AI, chatbots… How do we keep up with the trends? And it's not just technology trends; instructional strategies like gamification, curation, and social collaboration are being discussed everywhere. Learning experience architects can't possibly be expert at creating all these types of experiences, but they need to know how and where they fit in a learning campaign. In order to keep up with the trends, we need to first identify what the trends are, determine where to find expert guidance on implementing those trends, and create a formal learning plan for ourselves. I'll address this in more detail in a future post.



Identify opportunities for collaboration

. Collaboration is a tricky competency to master. I think that's because we all want to increase the collaboration between learners and, eventually, the workforce at large. But we can force people to socialize no more than we can force 12-year-olds to dance at a junior high school event. The motivation to collaborate and utilize social networks for learning needs to be intrinsic

- so our job is to identify how our learning audience is using collaborative technologies now, and find ways to incorporate them into the informal components of the learning campaign.
Refine Your Skills
In a previous post, I identified the winning formula for virtual training in blended learning success as being content, people, and the ability to effectively connect content and people. These essential elements can be combined in many ways, and not all of those combinations will meet the needs of your business and your learners.
After you have created a solid understanding of the business of learning, modern technologies and design strategies, and how collaboration might work in your organization, you can apply that knowledge to specific global training implementations.
Content

. Refine your understanding of content by identifying the subject matter experts for that

information

in your organization.

Engag

e

in

conversations that are outside the scope of the training need, but explore who the audience is, how they interact with content, and what moments of learning need can be addressed with a global learning campaign. You can also research how similar content is being delivered at other organizations – look for case studies, best practices, and webinars t

hat discuss the

topic.


People

. Don't fall into the trap of thinking that you know your training audience, even if you

have

been working with them for years. Start

from

scratch by creating learning personas for each affected region. Conduct task force meetings with business stakeholders to understand not just what needs to be trained, but what the potential reaction to th

at

training could be.


Ensuring connections between content and people.

Your global implementation will most likely be a blend of learning technologies and techniques. There are many opportunities for learners to drop out of the program, and many business factors that keep managers from seeing participation in a blend as a priority. The strategic use of technology,

a

strong communication plan, and a person responsible for maintaining content throughout the learning experience are critical to ensure people and content remain in sync.
Learn more about these three essential elements by reading my recent blog post, Going Global: The Winning Formula for Virtual Training and Blended Learning Success.
Plan for Success
A global blended learning program is complex and can be difficult for your stakeholders to visualize. You will need a strong plan in order to ensure that you get the support, resources, and budgets you need.
Approach this in stages.
First, do your initial instructional design including conducting a needs assessment and identifying performance objectives. Utilize your expanding network of subject matter experts and regional task forces to ensure that this information is correct.
Then, design an understandable approach to get the resources you need to move forward by following these steps:
Design your

blended learning campaign blueprint

.

A c

ampaign blueprint includes guiding questions, learner activities, ways to connect and collaborate, and learner assessment techniques and checkpoints.


Identify

required team member

s and instructional technologies

. Your blueprint should identify what types of technologies and instructional strategies are required for your proposed blend. Your proposed approach should include what type of human resources you need to develop these instructional approaches, and what technologies might need to be acquired to implement them. As much as possible, identify availability of the resources and the true cost of implementation.





Draft your implementation plan

. Your final plan should include development timeline, estimated budget, requirements for subject matter expertise, and delivery schedule. Don't forget to include time for regionalization of content and preparation for your facilitators

!
Your first global program will certainly have some unanticipated challenges. But if you prepare yourself, and prepare a strong plan, chances are you will meet the needs of your organization and the needs of your learners.
To learn more, watch the replay of my 2019 Virtually There series event, Implementing a Training Program Across a Global Organization – A Practical Guide. 
During this session, we will explore the formula for going global in more detail, while answering the following questions:
Is there value in designing a program that works across a global enterprise?

How do we maximize outcomes for BOTH learners and the organization? 

What design approach best supports global initiatives?
What's Next in The Blog: Chances are, you don't have the expertise (or time!) to get everything done on your own. Next time, I'll discuss how to design your personal learning plan, with specific advice relating to global implementation.