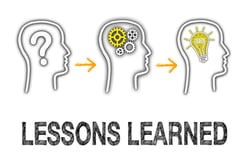 Jennifer Hofmann, President of InSync Training, recently joined eLearning Guild's Virtual Classroom Panel during their 2018 Learning Solutions Conference. Jennifer and other industry experts shared their insight into the challenges, realities, and best practices of live online learning. This post, the third in the series, recaps their panel discussion.
From instructional design to delivery to production, virtual learning requires special treatment. Accustomed to the face-to-face classroom, learners often perceive live online sessions as "less important."
How can we fight this stigma and increase learner engagement?
Nina Talley Everflow, Senior Program Manager of EnCompass, Jennifer Hofmann, President of InSync Training, Karen Hyder, Principal of Kaleidoscope Training and Consulting, and Bianca Woods, Sr. Manager of Programming for the eLearning Guild believe in the approaches detailed in this blog post.
Distinguish Between Webinars and Training
Building upon the defined success criteria, distinguishing between a typical webinar type of event and a hands-on training event proves a helpful exercise. Both categories have inherent value and are important in corporate training. However, we do have to treat them differently.
With a webinar type of event, it's generally an hour long. The first few minutes introduce the tools and the facilitator demonstrates how to use them. The facilitator goes over the protocol, including whether audio will be on or off, and clarifies when we'll be asking for questions. Make sure to spend a few minutes establishing the ground rules but keep it as short as possible. Remember, if we go too long, you'll train people to start showing up late because they've already done that part, right?
Conversely, if you're hosting a full live online training where people need to practice and there'll be multiple sessions often with self-directed work in between, we need a more comprehensive approach. Try to encourage either a 30-minute or a 1-hour training session that teaches learners how to use the platform.
At InSync Training, we call this training Learn How to Learn Online, which is—"how to click the buttons." But the buttons aren't the hard part. It's how to be fluent in this environment. How do we speak this language? Is it okay to chat while you're talking? If I don't answer the poll question, what does that mean? And how do we continue a conversation and get rid of these imagined barriers that the technology is putting up? By considering these nuances, we can plan to answer the questions for learners preemptively.
Start the Session by Setting Expectations
If we want our learners to succeed, we need to clarify what we expect them to accomplish and how they'll do so. In the face-to-face world, we set people up to show up at a session not necessarily knowing what they are there to learn or why they are there to learn it. Online, that is even worse. They have no idea why they're there, and they often intend to multitask through the whole thing. Expectation-setting up front, requiring some pre-learning, getting learners into the content a little bit before the event, and maybe generating some questions ahead of time, can vastly improve their success.
Provide Participant Guides
Many members of the panel send a participant guide prior to kick off. Creating a template of what goes into the guide creates a repeatable process for supporting your audience and ensures that your learners understand how the program will unfold. The participant guide includes connections and provides learners with details on what to do if things don't work. Sending that document out in a written form a few days in advance is going to provide an extra layer of learner support.
Consider One-on-One Checks
One expert recommends offering one-on-one or small technical checks so that folks can connect with a producer in advance. At a time that's convenient to them, learners have the opportunity to run through the audio, to run through "this is what the feedback tools look like," and "Here's webcam, if we're using it." As facilitators and program managers, we get some feedback from learners about what's working and what's not. Going through those processes really helps effectiveness and gets everybody online and on track.
Begin with Buffer Time
Some experts love to buffer the start time. For example, log in at 9:45 for an on-time start of 10:00. Most often, learners complain that a session has a scheduled start time of 10am, but by the time facilitators deal with getting everybody connected and people are late, learning doesn't get started until 10:15. Then we only have 45 minutes of content, resulting in a rushed experience.
What tips and tricks have you implemented in your organization that have improved the success of your virtual learners? Did this article teach you something new? We'd love to hear about it in the comments below!