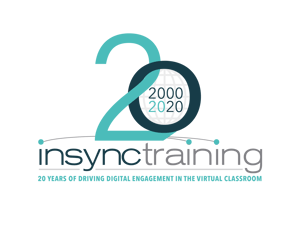 On January 3, 2000, I created a company named InSync Training. To answer a commonly asked question, the name WASN'T a play on the name of a popular boy band of the time - back then, virtual classrooms were called 'synchronous classrooms,' so I felt the name would be compelling.
At that time, the U.S. economy was coming out of the Dotcom era, and organizations were investing heavily in web-based technologies in all aspects of their operations (including learning and development) without any real understanding of what all this new tech would do for them. It was just assumed that the virtual classroom was the right choice for all modern training. I entered the marketplace with the vision of providing foundational, proven practices for training professionals to use and maximize virtual live instructional technologies in delivering training programs.
My idea was I would start with Train-the-Trainer programs to teach people how to facilitate in the virtual classroom without the benefit of eye contact and body language; design learning experiences that were at least equivalent (or superior!) to more traditional face-to-face experiences; and support virtual learning via the new role of a producer. (The word producer was something I started using in about 1997 to describe the role of the individual that was part tech support, part assistant trainer, and part learner advocate.)
I thought if this business offering was successful, that we could provide virtual facilitation, instructional design, and production services too.
Our team was very small back then – fewer than five people. Virtual teams and the virtual workplace hadn't become popular yet, and virtual training (and internet access generally) was often via dial-up. So we did our best to work from home offices while making it appear we were a more traditional company (just like everyone was trying to make the virtual classroom seem more like traditional training).
Fast Forward 20 Years
Now we all know better. A virtual workforce brings with it a different set of advantages and capabilities than those available in a traditional office setting. It's not the same; it needs to be managed differently…and we know that the virtual classroom is not the same as a face-to-face environment. Over the last two decades, we've introduced advanced techniques that help facilitators engage learners environmentally, intellectually, and emotionally. Facilitators, instructional designers, producers and learners all play a part in making sure the training program is successful – and they need to do it in a way that's very different than what they would have done 20 years ago.
Today, InSync Training has a team of more than 85 people globally, supporting virtual training in a dozen languages every week. In addition to our catalog of professional development opportunities for training professionals, we offer a full suite of services in support of virtual and blended learning-including virtual facilitation, production, design, coaching, evaluation and measurement, and managed services.
What's Next
For 20 years, we've been focused on just one thing: driving digital engagement in the virtual classroom. Throughout 2020, I'll explore what that has meant, and what it will mean in the future.
We will be looking back at everything that's changed in the training and development space since we opened - focusing especially on lessons learned and those issues that will inform the next developments in the industry – because one thing we've learned is that the face of the virtual classroom (and learning & development generally) is continuing to change.
We're in the mood to celebrate 20 years, so we'll also be highlighting many of the InSync team members that helped us get to where we are today – you'll certainly recognize some of them if you've ever been in a workshop or class here.
I am truly looking forward to this new year and am excited about what's next for us.
Thanks for joining us on our journey!
Jennifer Hofmann, President and (VERY PROUD) Founder of InSync Training
Discover how my team and I can help you achieve your learning goals today, tomorrow, and long into the future. Tap the button below to download our Program and Services Catalog.