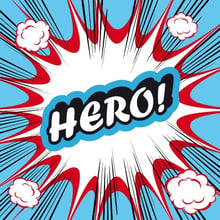 As instructional designers, we have an important common goal: impacting individual learners' personal learning paths.
Creating effective, dynamic training programs requires an involved process, including a multi-layered approach that asks a variety of questions including: How do we ensure our training has an impact during both formal and informal moments of learning need? What is an instructional strategy? How does EdTech influence our designs?
At a loss for how to get started? Fear not! Meet Donna Designer, InSync Training's Instructional Design Superhero!
In about five minutes, she expertly answers these questions and explains how to create strategic perpetual learning that brings value to learners and the business.
Watch this helpful introductory video to gain a basic understanding of the nuances involved in creating strategic instructional design treatments. With your new superhero design skills, you'll more easily create relevant, useful training content that really wows your learners.
View the video here: