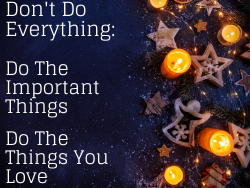 For the past 16 years it's been an InSync tradition to offer a free "Holiday* Stressbusters" session in late November. It's meant to be a helpful, mostly-lighthearted look at ways of coping with things particular to the holidays: too many parties with too much food and, ahem, beverage, the feeling of being overwhelmed by so much planning and buying and wrapping and whatnot, dealing with the tensions of family gatherings, etc.
*We specify that this is nondenominational and nonspecific. I like to note the day in December 2006 I finished graduate Statistics. However, most session conversation does tend to gravitate toward Christmas.
We first started offering this session when I was working as the eLearning coordinator for the state of North Carolina - It had been a popular, very interactive face-to-face offering and seemed like a good topic for introducing virtual classroom training to our workforce. Starting that year, I offered it only in the virtual format – no more face to face, a practice that eventually replaced nearly all my prior in-person work. (The first session advertisement from 2004 includes 300 words about what the virtual classroom is, a recommendation to attend an orientation session, an explanation about how you need to click on a link, and information about buying or contacting your IT department for a microphone.) While it's had a few updates over the years, the gist of this session is that participants list common holiday stressors, discuss how the stress makes them feel and why they are interested in changing. Then we work together to build the handout of tips that will be their own takeaway. It's a busy, chatty hour giving part real relief, part just a chance to vent for a few moments, and part "I'm not the only one" confirmation. It's usually quite fun and people leave happy. After the session I collect the participant tips and create a handout to send the next day.
This year is different.
Much of the focus in past sessions was thinking of how to deal with housefuls of people, suddenly rule-less college kids home for weeks, and the stress of getting to several different houses on the same day. This year many gatherings are eliminated or reduced, and decisions about whether or how to have them are fraught with walking-on-eggshell conversations.
Ideas like visiting nursing homes, taking older folks out for a drive to look at holiday lights, and caroling are out.
Participants always bring up the problem of overindulging – too many parties, too much rich food, too many temptations. Holiday parties in 2020 are few and far between, at least in the US.
An important, more serious part of the session is addressing the rarer situation of not-gatherings: The stress that comes if you or someone you know is alone on a holiday, or for some reason unable to make the parties. I don't even know how to estimate the magnified number of people alone – even isolated – for holidays this year.
Where it was usual every year to have a participant looking for ideas to help their family suddenly missing a beloved grandparent, this year brings many, many more missing grandparents and uncles and cousins.
I toyed with the idea of scheduling "Holiday Stressbusters 2020" but felt I couldn't do a very good job of it. I don't really know how I'd structure the session as so much of the past content is not relevant this year. What has traditionally been a sincere but mostly-for-fun effort seems too glib and dismissive right now. And finally: I'm not a psychologist. I am not qualified to offer help to those facing much harder winter holidays. I do hope if this year is especially hard for you that you seek out more substantive, credible help.
And I hope next year we can get back to talking about annoying aunts-in-law and the problem of too much cheesecake.
Meantime, here are some tips culled from 16 years' of participant handouts:
Curing "the gimmies"
Set limits ahead of time, for instance: Something they want, something they need, something to wear, and something to read.
Limit TV/exposure to advertising
Communicate with family and exes about number of gifts
Create some new traditions: cookie decorating, nature walk, making ornaments, drive around to see holiday lights
Limit number of items children can ask for
Work on demonstrating giving: Volunteer every season at a soup kitchen, food bank, or humane society. Provide an 'angel tree' gift, choose new toys to donate to Toys for Tots, or shop together to buy groceries for a family in need. Keep a spare change jar and at end of year choose a charity: Heifer International, Toys for Tots, etc.
Try to practice giving all year 'round
Give kids a toy catalog, tell them to pick 3 things, and advise them that Santa will bring only 1
Plan to clean out the toy boxes at Thanksgiving before they get new Christmas presents
Grandma's Stocking: One participant whose family lost a grandmother the prior year had a new tradition. They hung 'grandma's stocking' and gave the children slips of paper. The kids wrote things that had happened over the past year that Grandma would have enjoyed or been proud of, or times they missed her and wished she could have been with them. It was this family's way of keeping her in mind and helping the children see past just getting presents.
Overindulging
Take a bite of everything
Don't 'save up' — you'll just end up eating more
Have a meal, or at least soup, before you go out
Only eat things you don't have any other time of the year
Use a bread/salad plate
Realize that overindulging only increases the stress
Keep moving and talking
Make healthier choices
Get leftover or gift food out of the house — give to homeless shelter
If potluck, take something healthy
Remember this may be the last year you can have your mother's pie—don't be too hard on yourself
Take ½ portions
Ask people to bring something at a non-holiday time of year
Relaxing
Find quiet time/space
Have a casual holiday sandwich/soup night
Read
Pay a sitter to take the kids OUT of the house so you can wrap, etc.
Set aside a night for close family, staying home, etc.
Walk and exercise
Have tea
Rule: Santa doesn't wrap
Take a bubble bath
Adjust expectations of family, gatherings, others: be pleasantly surprised
Spa day
Decorate naked cookies
Do the parts of things you like: buy prebaked walls for gingerbread house
Puzzle night
Couch time
Family
Avoid
Send them to your sisters!
Limit time you spend with them
Try to frame gatherings as a temporary, manageable event
Be a moving target
Phone family/friends you haven't talked to in a long time
If you have people who want to come visit but you don't want them to, tell them you are planning to spend the day working on a home repair project and they can help if they want to
Phone those who have lost someone this year (including divorced) just to check on them
When someone complains about something, thank them for volunteering to make it better
Other
Prioritize and make good choices for yourself
Invite people to come even if you know they won't. It makes them still feel included
Do a family talent show (this year: via Zoom)
Avoid crises
Set limits on spending, parties, etc.
Don't do everything: do the important things, and do the things you love