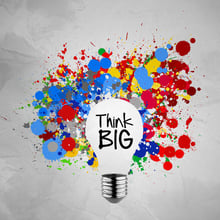 Here's a radical idea: maybe we've been thinking too small when it comes to instructional design.
Relying on proven principles while purposefully expanding the scope of our vision can help us accomplish organizational goals and empower learners to better navigate their modern workplaces. We believe in a more thorough model so much that we practice and preach perpetual learning design.
Our new video explains the concept in under three minutes - click here to view.
At its core, perpetual learning design acknowledges that as training professionals, we can't realistically incorporate all the latest trends into every single program
As instructional designers, we have to select the most appropriate treatment for each learning objective. As facilitators, we now guide learners on ongoing journeys, rather than just share content. Our jobs have become both more complicated and more important.
Perpetual learning allows us to organize training components into cohesive programs that respect the value of formal and informal learning, while requiring learners to take ownership of their professional development. As this new video points out, "This modern approach to blended learning design meets the needs of learners no matter what their learning environment."
Unsure whether or not perpetual learning design will work for your training programs? Start small! Take a single standalone event, like an onboarding training, and use this model to better connect support resources and job aids to the live event.